FITNESS MADE FUN AT BOOTCAMP
By Carolyn Cooke, Surrey NowDecember 22, 2011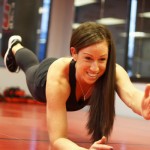 Michelle Roots, fitness writer, trainer and owner of Core Condition, does a one-handed push-up. She's offering a new boot camp class in Newton. Photograph by: ADAM KVETON, for Surrey NOW
If you're contemplating a New Year's resolution to get back in shape, new classes starting soon can help keep you on track. Michelle Roots, owner of Core Condition, is offering two boot camps, called The Gauntlet, at Wachal's Martial Arts Academy in Newton. The first option, from noon to 1 p.m., will focus on the core and abdominals, with cardio intervals. The evening class, from 6: 15 to 7: 15 p.m., is a full-body circuit training program. The classes run for six weeks, beginning on Jan. 9, and run two days a week each.
What makes her classes a bit different, Roots said, is that she doesn't have people do the same exercises over and over. "It's all about keeping your body guessing," she said, which also keeps it interesting. Her approach is high-intensity interval training, which is one of the best fitness approaches to burn fat and build strength. "It's a social thing, too," Roots noted. She had clients who met at a Burnaby version of her boot camp who struck up a friendship and now go to the gym together.
Roots, who grew up in Surrey, has always been athletic. Her time playing basketball at Kwantlen Polytechnic University paid off when she earned a scholarship to the University of Winnipeg, where she studied kinesiology, and active rehab in particular. Once she finished her studies, she came back to B.C. and started her own business. Aside from doing rehabilitation work with people who've been hurt in car accidents, Roots also works as a strength and conditioning coach for some local sports teams and trains people one-on-one. But, she said, she really enjoys the energy and dynamic of groups, particularly classes. "I thought, why don't I just start my own boot camp?" she said.
While she will push clients to work harder than they will on their own, she stressed her classes are adaptable to all fitness levels. She will show people easier forms of each exercise to suit their fitness level. The value in working with a trainer, Roots said, is "people can't push themselves." And yet, she said she makes it fun by constantly changing up the exercises and keeps the music cranked to keep people energized.
For more details and registration info, see www.core-condition.com.
YOU CAN VIEW FULL ARTICLE AT: http://www.thenownewspaper.com/health/Fitness+made+boot+camp/5897347/story.html
© Copyright (c) Surrey Now