CLICK HERE TO VIEW MORE AMAZING TRANSFORMATIONS ON THE CORE CONDITIONING FACEBOOK PAGE!
CORE CONDITIONING CHALLENGERS:
How do I even begin to write in words my experience with core conditioning? LIFE CHANGING! I have always been up and down with my weight and tried many different diets and workout routines as well as going to the gym for what seemed like hours. But none of those methods taught me the one thing that Michelle has taught me and which is probably the most important, living a balanced and healthy lifestyle. I remember signing up for my first class with my sister and even though I knew I had her by myside I was more nervous than I think I've ever  been, I honestly didn't think I could do it. I remember finishing my first "half time show" and thinking there was no way I could finish. But with the encouragement of Michelle and other trainees I made it through. Yes I was sore the next day but that just made me want to go back for more, so what was a once a week metabolic class has now turned into a 3-4 times a week class. Michelle has encouraged, supported and pushed me through every single class and two 28 days challenges and over the last 5 months I have lost a total of 38 pounds and 14 inches and have seen my body change and transform like I never thought it could. Core Conditioning is definitely the place to come to if you are looking to make a positive change in your life(AND HAVE FUN DOING IT) and there really is no one better to help you on you road to success than Michelle.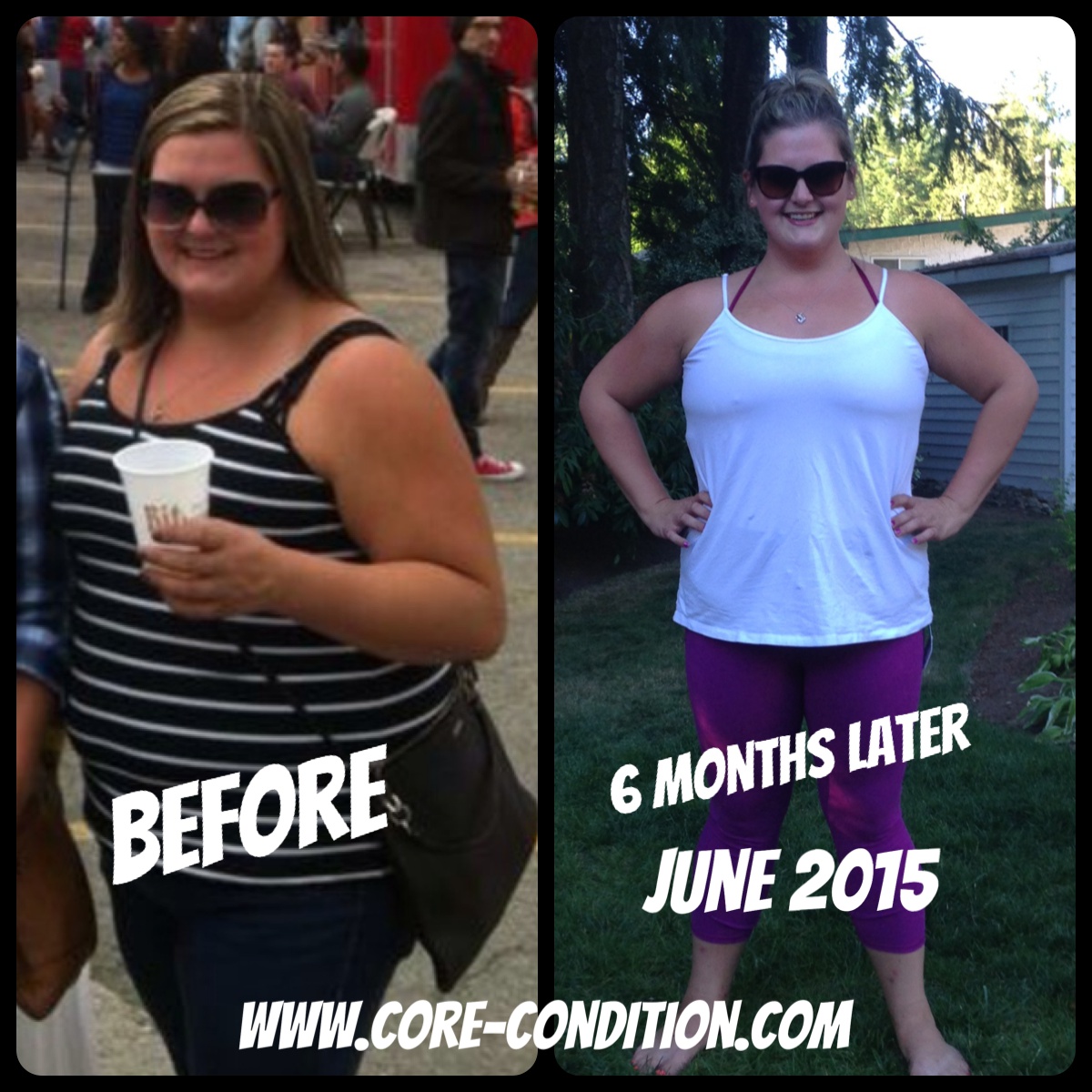 Andrea Acherholt – Surrey, BC
---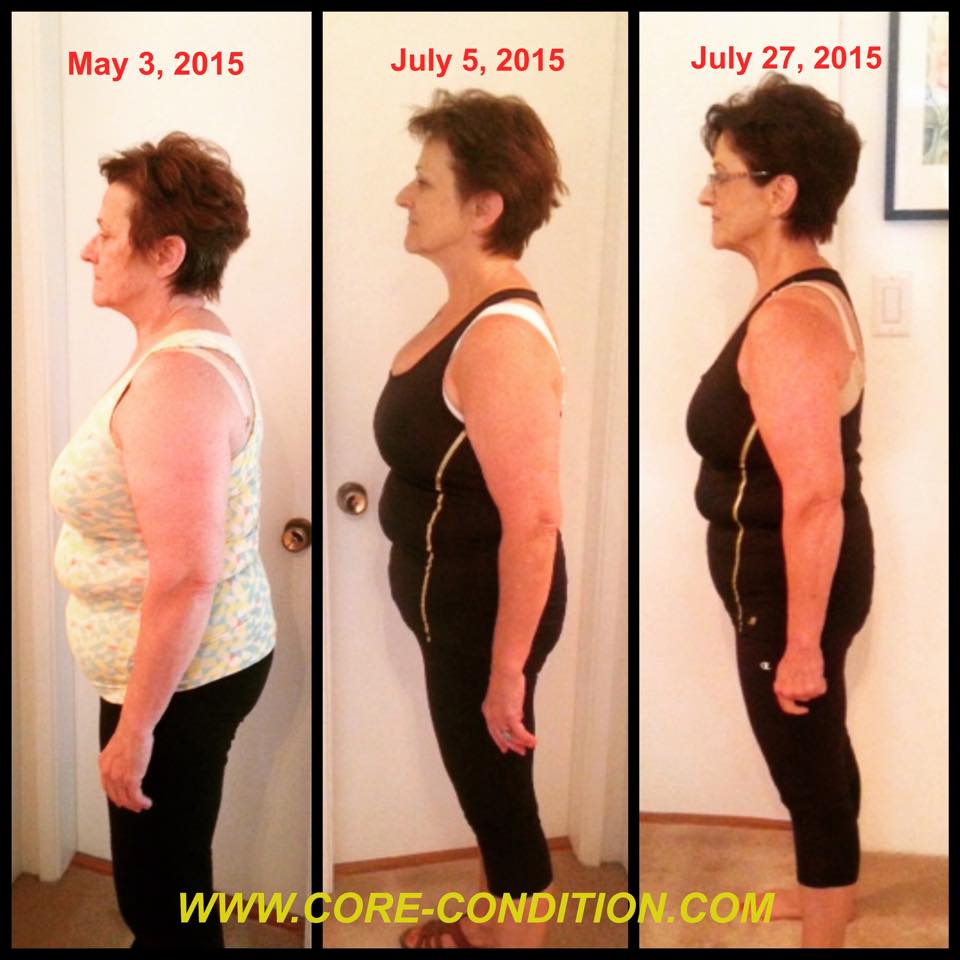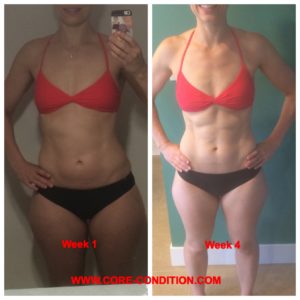 ---
---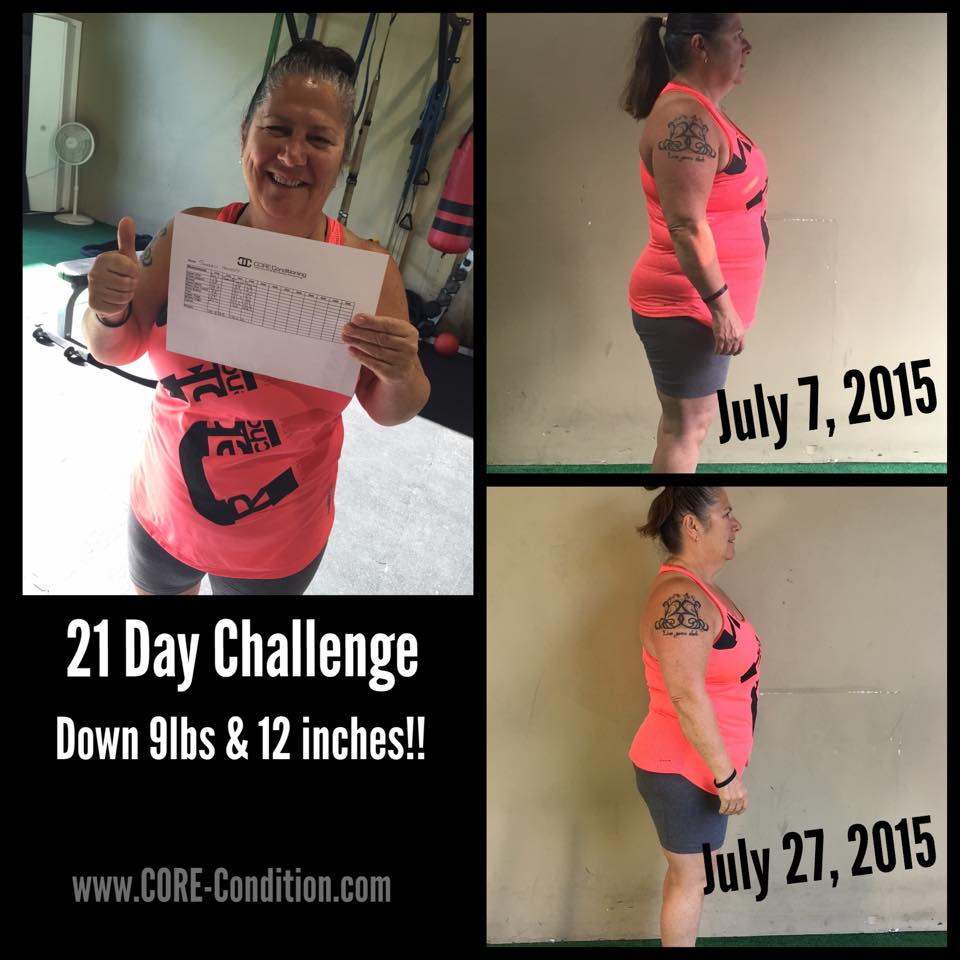 ---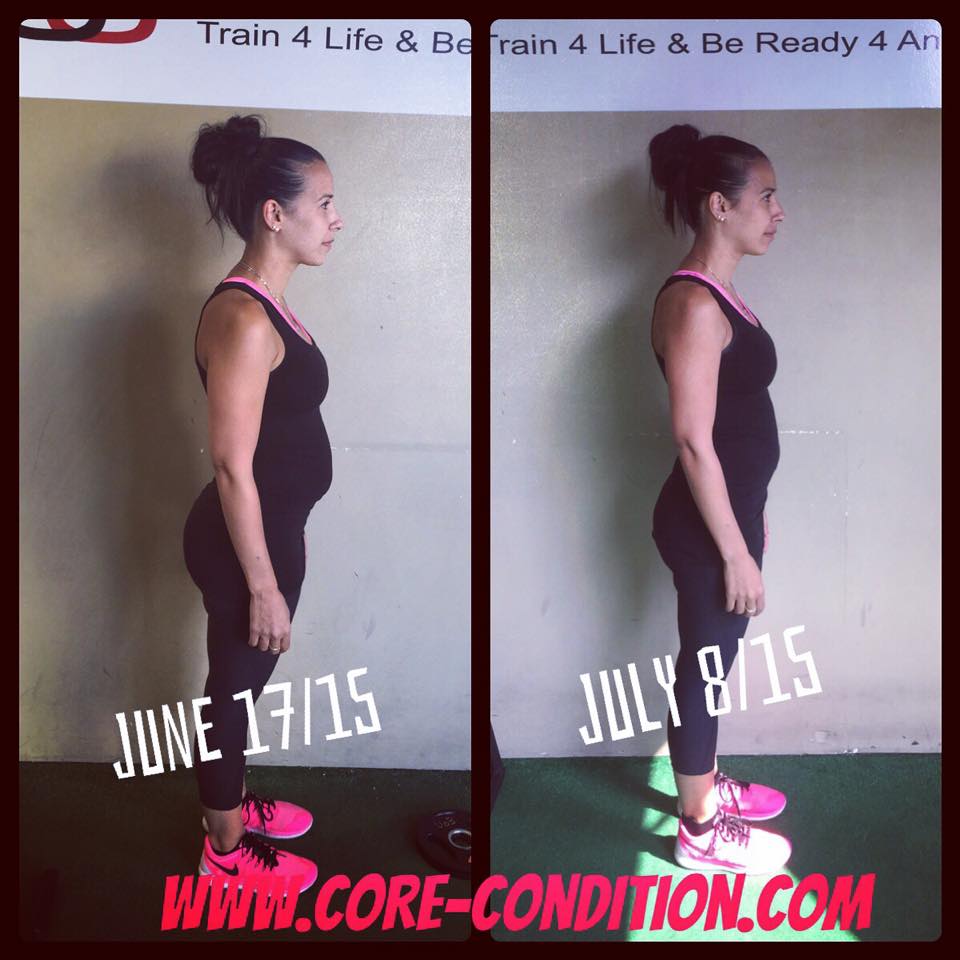 ---
---
---
---
---
ARE YOU READY? IT'S YOUR TURN!
CLICK HERE TO READ MORE ABOUT OUR CHALLENGES AND
SIGN UP NOW!
—————————————————————————————————————————
I took on Michelle's 4 week Fat Blast challenge.  She had it well organized with menu plans and showed us the balance that we need to eat with carbs, protein and fats.  Michelle provided an exercise plan with explanations and videos on
technique.  This challenge was also unique in that you must have a cheat day once a week. That was the tough part! lol I think having a cheat day in the program made it much easier to stick to the program the other six days of the week.
Michelle was always available to answer any questions that I had about the program. She is an amazing, knowledgeable trainer. I meet her once a week for personalized training. She is always an entertaining task master. I have never cancelled a session due to injury. She is always able to work around it and/or give me some exercises or stretches that help it.
I finished the Fat Blast Challenge with a weight loss of 7 pounds and a loss of 10.7 inches. I was particularly pleased with the loss of 4 inches around
my midriff.  The weight loss was noticeable. I went shopping and had my arms full of groceries and found my shorts slipping down. I just managed to find a counter to put my groceries down before they fell to the floor! lol
I was so happy with the Fat Blast Challenge that I am signing up for the next one.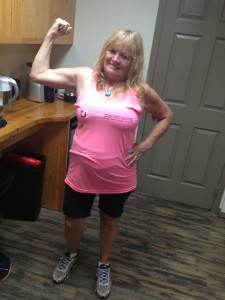 Janine Bruno – Burnaby, BC
---
After her first 52 days with CORE Conditioning…..
Wow Michelle! I didn't weigh myself or examine myself in the mirror for too long or anything for the 21 days. Didn't think it was making much of a difference body shape wise. Just kept my head down and listened to you. I feel good about myself and seriously feel like you've given me my life back..esp energy wise. You're awesome! I'm gonna keep on working…Bring on the next 30 days!!!
But she wasn't done there…….she had more work to do and more to say:
I'm 36 years old, and came into Core Conditioning completely and totally inexperienced. My only experience with fitness (after graduating high school 18 years ago) had been a few boot camps (which I would eventually drop out of) and running on the treadmill in a gym. Michelle changed my life. I'm a mother of two with a full time job, and had a weak core and debilitating shoulder/back pain due to my pregnancies and a previous car accident. Over the course of nine months with Core Conditioning I have lost 26 inches, built up amazing core strength, got rid of my aches and pains, conquered my destructive relationship with food, eat clean, and now do exercises I never even imagined myself doing. Michelle is awesome – she will give you the guidance you need, the nutrition advice you need, the encouragement you need, the atmosphere you need, and the exercises you need. Core Conditioning is a part of my life now and working out is no longer a chore. The encouragement I get from fellow trainees is amazing. No one judged me once for not being able to do something, and when I hit a personal milestone, everyone cheers. You just need the resolve and the belief that you can change, and Core Conditioning will provide everything else! If you need a life change, this is the place to come to.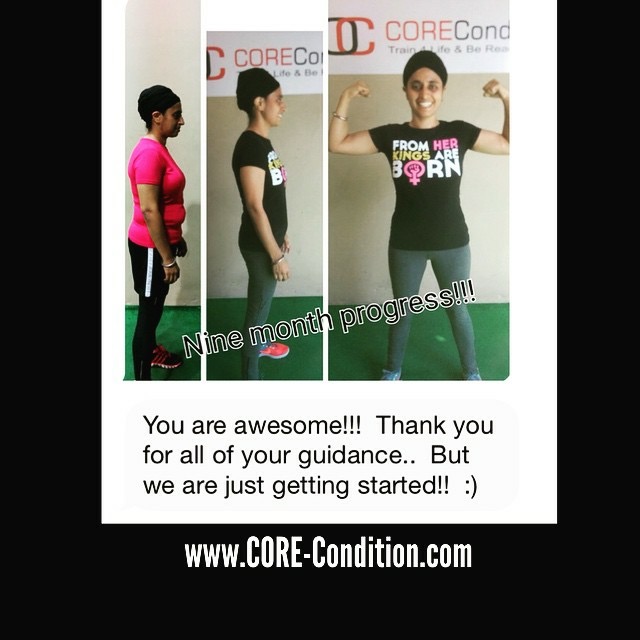 Gurminder Kaur Malik  – Surrey, BC
---
---
My experience at Core Conditioning and working with Michelle has literally changed my life in the most amazing way possible. I always thought I was eating "healthy" and trying my best to keep active, however, after I met Michelle I realized I had just been kidding myself all these years. I found Core Conditioning through Instagram, oh the power of social media, and I am so glad I did. My first class with Michelle was one of the hardest things I have ever done, although I was just trying to keep up, I found the energy in the room from Michelle and her other clients was just so positive and uplifting, I knew I had to finish. With Michelle's incredible enthusiasm for each individual person who walks through her door, to her positive encouraging demeanor has helped me persevere in the last few months while changing my body day by day in her Metabolic group fitness classes. Not only have I gained muscle and lost weight, she has taught me hope to fuel my body the right way. I did the July FAT BLAST challenge and I found it mind-blowing with the foods and workouts Michelle had shown us to do, they truly work and that the scale is nothing and inches are everything. My body feels like it never has, I have energy, I don't feel bloated or sluggish anymore, and along with the Metabolic classes three times a week, Michelle and Core Conditioning helped me in the most incredible way I could have ever thought. I love going to Michelle's classes, it is such a great atmosphere to feel healthy, fit, see results and have fun. I would recommend Michelle to anyone, even if you think you could not do it, you can, especially at Core Conditioning and Michelle will help you find the way! I am on the way to being the healthiest and best I have ever felt and you could too!
Thanks Michelle!!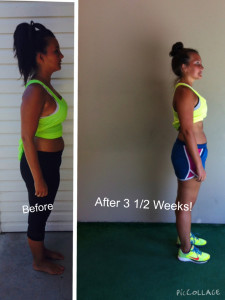 Brigitte Osborn – Langley, BC
---
---
Hi, everyone my name is Cathy.
I learned about Michelle when I did the Surrey Music Marathon in 2013. She had an advertisement to sign up for her newsletter. As I am a walking instructor at the Langley Running Room I am always looking for information to share with the people that take my clinics. Michelle has some awesome Nutrition information that she shares in her newsletters. As a result of the newsletter, I learned about her first challenge in July 2014. I was training for my first full marathon and needed to drop some pounds and build some more muscle. I did the challenge and dropped the weight I needed and was able to complete the marathon. I had done half marathons up to this time. While training for my next marathon I broke my 5th metatarsal in my foot it was a complicated break and I was off my feet for 5 months. I gained 10 pounds and lost a lot of muscle tone. Michelle offered a new challenge in Jan. Transformation 2015. This was perfect timing for me. I lost 5.5 inches off my waist and 5 of the 10 pounds. I feel so much better and am continuing with her programe and expect to be in racing form for The Vancouver Bank of Montreal half marathon in May. Will have to wait for my next Marathon. I have also done all of this with her online training program. I have not done any of her classes as I have a very busy schedule. If your are motivated I recommend you contact Michelle and change your life.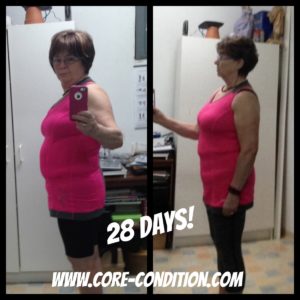 Cathy Price — Surrey, BC
---
Training with Michelle has been one of the best decisions I have made to impact my lifestyle in a positive and healthy way. I have been attending the metabolic class since January of this year and have made incredible gains in transforming my body in terms of my physical strength and overall body image. (14 pound and 17 inches lost!). Michelle is constantly inspiring everyone with an innovative attack on fitness which includes various challenging and motivating techniques, her endless clean eating recipes and her overall passion for total body health. You will never get to comfortable with the exercises you do as Michelle always knows how to step up the game and keep you on your toes. Her passion in the work she does with her clients is evident from the way she provides you with many opportunities to grow and improve in a safe and supportive environment. I believe that I am in the best shape of my life and owe it to Michelle and the Core Conditioning family!!!!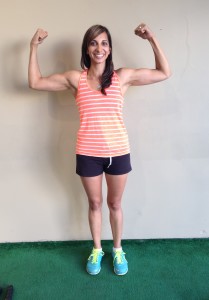 And she kept going until 8 1/2 Months Pregnant!!! #SuperWoman

Pam Luddu – Surrey, BC
---
METABOLIC GROUP FITNESS CLASS:
I have known Michelle for 13 years, but it wasn't until November 2012 that I started working out with her. I enrolled in her Metabolic Bootcamp after I had my son in July 2012. When I started with Michelle I hadn't worked out in over a year and needed to lose about 20 pounds to get to my pre-pregnancy weight. After only one class of the Metabolic Bootcamp I felt better.
It was so nice to get back into a workout routine and thanks to Michelle's guidance and coaching I started seeing results right away. I was getting strong, leaner and my body started tightening up almost immediately.
Michelle is a consummate professional. I never get bored during her class because she is always mixing things up. Just when you think you know what to expect she changes the class. She has challenged and motivated me to work to my maximum ability. Michelle has shown me how strong I am, strength I didn't even know I had.
Michelle motivates me to stay active. I am still enrolled in Bootcamp and I recently recruited my sisters to join me also. Now it has become an activity all 3 of us can do together, other than drinking wine.
I am losing weight, gaining strength and feeling the best I have felt in years. I am on my way to a healthier lifestyle, and much of the credit goes to Michelle.
Thank you Michelle.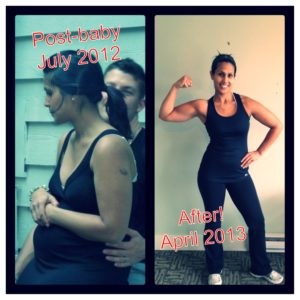 Poonam Bains-McQueen–Surrey, BC
---
Do any of these sound familiar: "I am so out of shape"…."That looks too difficult for me"…."I don't think this will be the right class for me"…."What if I look stupid in front of everyone"…."I haven't been to the gym in months (or years)"….These are a few of the phrases I used to convince myself to stay at home until I got the courage to just turn up one day. I could not complete the whole class and tried to talk myself out of returning two days later but I decided that doing half a class was better than sitting on the couch, I surprised myself and completed all the exercises.
That was eight weeks ago and it was the best thing I have done for myself in a long, long time. I am not an athlete not do I play on any sports team, I just wanted to lose a few pounds and feel better about myself. I did get rid of a few of my bad eating habits too, because like Michelle says, "Abs are made in the kitchen not the gym"
With Michelle's enthusiasm and my hard work I have lost pounds and inches but more importantly I have gained strength and look forward to sweating it out every Wednesday and Friday. I have tried other circuit classes in the past but nothing compares to this, there is something new every week and if an exercise is too difficult at first Michelle always has an easier alternative.
Michelle is an excellent trainer and I would recommend her to anyone. I encourage everyone reading this to just give it a try for a couple of weeks, I bet you keep coming back. Check out her schedule to see what times work best for you.
Thank you Michelle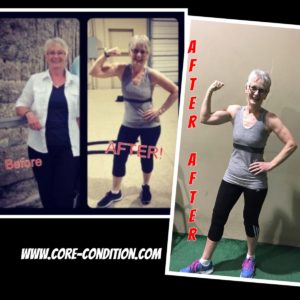 Sheila Foster –Surrey, BC
---
In 2014, I heard about Core Conditioning and decided to give it a try. I have never really been into fitness before and I did not know what I was getting into. I started training there once a week and I slowly increased my training sessions to 2 and then 3 times a week. Now, I can't get enough; I'm addicted to it! Each metabolic class is hard, but so rewarding at the same time. Michelle and the Core Conditioning team are always there to encourage and motivate me. It is not only a great workout, but a boost of confidence. I feel so much better about myself and I owe this amazing feeling to Michelle and the Core Conditioning family. I am proud to say that Core Conditioning has literally changed my life for the better!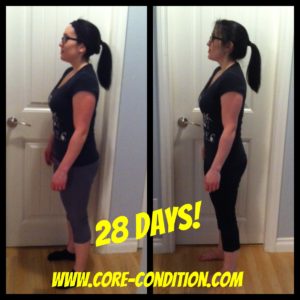 Josianne Giroux – Surrey, BC
---
I have been training with Michelle since October 2012 twice a week at the metabolic group exercise class. I first observed her train my sixteen year old sons' soccer team and her personalized approach and positive attitude towards training caught my interest. I stay physically active but wanted some variety and increased challenge in my workout routine so I decided to try something new. The metabolic group exercise class was the right fit for me; I gained a considerable amount of upper body, and core strength as well as a significant improvement of my cardiovascular endurance. Michelle is constantly changing the workout so my body does not get to adjust therefore I can constantly improve physically, another added benefit of the changing routine is I am always engaged and excited to see what we will be doing in class. These classes helped me in a number of ways ranging from keeping up with my children in their many extracurricular activities to improving my posture or tasks as simple as gardening.
Giusi Gerwin–Delta, BC
---
I like to play soccer on the weekends and a couple of years ago I started to develop problems with both my Achilles tendons and it was preventing me from playing soccer. I tried yoga, physio therapy, massage therapy, and stretching but nothing seemed to work then I started training with Core-Condition and my Achilles tendon pain went away. Now I am able to enjoy playing in tournaments again and playing more minutes than I thought would be possible.
I find the Core Condition classes as a convenient way for me to cross train and my overall fitness level has returned to my pre injury level. I plan to keep Core-Condition classes as a regular part of my fitness routine.
Jon Caviglia–Surrey, BC
---
Michelle was recommended to me by my co-worker that trained with her. I started training one-on one with Michelle about six months ago and it has been one of the best decisions I have ever made.
I had had major surgery on my ankle four years ago and was no longer allowed to run, was overweight, in terrible shape, 53 years old and was concerned about reinjuring my ankle. Michelle started me out slowly, but consistently building and always mindful of my ankle and the issues around it. She is always very encouraging and challenging, in a good way. Then I started going to her Metabolic Group Exercise Class in February and I amaze myself with what I am now able to do thanks to Michelle's training. As of the beginning of March, I have lost 18 pounds and 12 inches and my body fat has gone from the high 30's to 28% and I look forward to my next set of measurements.
I continue to do one-on-one and the Metabolic Group Exercise Class training three to five times per week and I love it. I am not at my goal yet, but I know as long as I continue on this path with Michelle I will achieve that goal and maintain it. I highly recommend anybody that wants to get into shape to contact Michelle not matter your age or fitness level.
Sharon Haverty—New Westminster, BC
---
I met Michelle in July 2013 when I started going to her Metabolic Group Exercise Class. I had been working out at the gym 5 days a week for years and was going to numerous fitness classes as well. However, I was not making much progress until this class. This class is like no other aerobic or fitness classes I have ever been to at other gyms. It is the right combination of cardio, core and strength training in an extremely energetic, welcoming and fun environment. Michelle has the extraordinary ability to make you feel like you can do anything, and everything is possible.
I had the summer off so I went to 4 classes a week. I soon began to notice a difference in my energy level, strength and flexibility. I also began to gain considerable upper body and core strength. At the end of the summer we did my first set of measurements and I was amazed at the changes in my body. I had lost inches everywhere but the most significant change was losing over 3 inches on my waist. This made me realize that the Metabolic Group Exercise Class was definitely the right fit for me.
I have continued with at least 2-3 classes a week and have lost over 13 inches and dropped almost 2 pants sizes in less than a year. My body has toned considerably and I have also gained tremendous strength and muscle. I really enjoy the classes because Michelle always changes things up and offers new challenges regularly. Michelle has been such a great role model and I feel better than I ever have and am definitely the healthiest I have ever been.
I am looking forward to making even more progress with Michelle going forward.
Sarb Grewal – Burnaby, BC
---
Why I love Michelle's classes?! I started attending Michelle's Core Conditioning Group Fitness Class last July with my Mom and my Aunt and I was instantly hooked! The environment was encouraging and welcoming. I have attended enough group classes that it was a relief to feel this – for those of you that know what I am talking about – it's not one of those classes you attend and feel awkward in or people stare at you haha. The women there are so nice and Michelle is very attentive. She is very good at making the class work for every fitness level by offering a couple of variations for each exercise and she will also work around your injuries, aches and pains so you are able to participate. This was very good for me because I came into it with no upper body strength and a wobbly core. Michelle was able to show me exercise variations that I could do without feeling like the class was too difficult for me.
After about two weeks of good healthy eating I noticed right away that this class was making a difference. My stomach was tighter, butt was sore and I was getting stronger. Now when I say stronger I don't mean bulging muscles, I mean I could open my own jars without my boyfriends help. Michelle's classes are the perfect fit for my busy schedule and my life. The class has prepared me for a couple of races now, taught me 40 seconds is a lot longer than you think, and set me up for some very healthy lifestyle habits.
Thanks Michelle!
Bailey S – New Westminister, BC
---
ONE-ON-ONE TRAINING CLIENTS: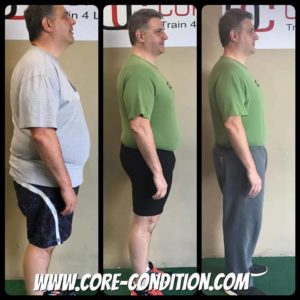 ---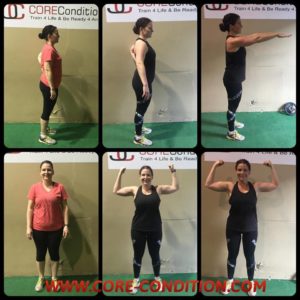 ---
OPERATION RIPPED BRIDE: SUCCESS
I began working out with Michelle roughly 2 months before my wedding. I wanted to be in the best shape possible for my big day and therefore did a ton of research beforehand on what I should be doing prior to the big day.  I never considered myself overweight to begin with but I knew that I wasn't in the best shape that I could be in. After following Michelle on social media and consulting with a friend I knew Michelle could help me achieve my ultimate goal… to become a healthier being.
I consulted with Michelle and after our first meeting we quickly figured out a plan that would work for me. I work somewhat unconventional hours so Michelle was more than willing to work around my schedule.
Over the weeks I learned so much about my body that I would have never been able to figure out on my own. I not only learned new and challenging exercise techniques but I learned how to eat properly.  I am a vegetarian and have a somewhat love hate relationship with food all together. But with Michelle I learned what foods were my weakness and which ones were my strengths. Each session only got tougher and more challenging but the adrenaline from the workouts kept me going.  Every session was different and just when I would get comfortable Michelle would mix things up and kick things up a notch.
When I first met Michelle I told her I wasn't here to lose weight but get fit and tone my body down. And that's exactly what Michelle helped me do. In 8 weeks I successfully lost 15 inches off my body yet only 4 pounds! I didn't even think that was possible. But with Michelle's help and my determination we were able to get it done. And the best part about working out with Michelle is, it doesn't feel like you are being trained but rather working out alongside a friend.
Thanks for your help Michelle, I can honestly say I've never felt or looked this good in my entire life. And I'm looking forward to working with you again very soon!
Anjee Gill–Surrey, BC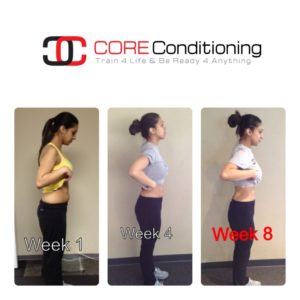 ---
Michelle trained me twice a week for 4 consecutive months. I lost 5% body fat and around 6 inches, with the majority of those inches being from my mid-section. These results are due to Michelle utilizing several training strategies and custom exercise programs. She has helped me set the foundation for a new healthier lifestyle by providing me with nutrition advice and ( assisting me in realizing how much strength I have) or (assisting me in understanding how to (build/increase my) strength). By the end of the 4 months, I had more than doubled the amount of weights I was lifting. Not only do I feel comfortable in my skin, working with Michelle has allowed me to gain confidence in all aspects of life. I feel happier, less stressed and motivated to constantly challenge myself.   I recommend Michelle without reservation.
Jessie Mann, Surrey BC
---
Michelle has made such a difference in my life! I have a weakness on my left side due to cerebral palsy, which also affects my balance. During the past year of working with Michelle, my balance and strength have undergone tremendous improvement.
I am so much stronger, fitter and and much more use of my left side.
Michelle you are truly a miracle worker! I get lots of compliments on my appearance as we'll. Michelle, you are the best!
Marke Dunne – Burnaby, BC
 CHECK OUT MARKE'S AMAZING HIGHLIGHT REEL BELOW!!
---
I got the great opportunity to work with Michelle this past summer as part of my active rehabilitation after having reconstructive shoulder surgery back in February of 2011. I started training with her in May of 2011 and I had the best rehabilitation process that I've had through previous surgeries. Other training services will take it slow, and whether they are pushing you as hard as you can go is a question in everyone's mind. Michelle did everything in her power to get me to the point where I needed to be with my shoulder. She knew my limits and did all that she could to get my shoulder to where it needed to be. She approached every exercise and every training session with a positive attitude and I didn't feel like just another client when I was working with her, she treated me with the utter most respect and allowed me to work hard and be the athlete that I knew i could be! Since working with Michelle I have had 0 problems and am playing hockey at the NCAA Division 1 level with no shoulder issues. Whoever reads this should know that Michelle is an amazing trainer!
Simon Denis–Burnaby, BC–Ferris State University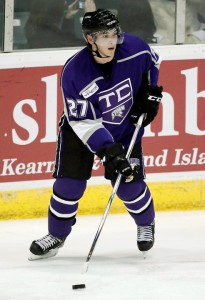 ---
I've had the privilege of training with Michelle for the past few months. Michelle pushed me to my limits, and challenged me to be at my best every workout. I came to every workout excited to train, left exhausted, but feeling as if I had accomplished something. If you want someone to push you to be at your best every workout, Michelle would be a great trainer for you. I saw tangible results in power, speed, and quickness. She provided me with overall training to increase strength and conditioning as well. Michelle is a very positive person to work with, bringing energy and enthusiasm to every session. She is also creative and varies the workouts in the gym, so you're always learning something new. I would recommend Michelle as a trainer to anyone!
Alexi Foster–Langley, BC–Trinity Western University
---
Originally, I wanted to train with Michelle for two or three sessions to work on some weight training techniques. Each workout we did was different and more challenging than the last and they were all specific to my needs. However, I quickly became addicted and those few sessions turned into about 2 and a half months of training. Michelle pushed me harder than I thought possible each and every workout. With her help, my cardio, speed, and strength improved dramatically—and I had fun while doing it! I would recommend seeing Michelle for any and all types of training.
Nicola Hitchcock–Coquitlam, BC–Quest University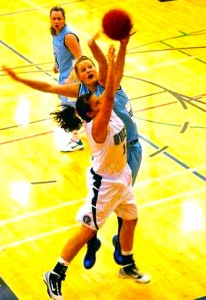 ---
I've had the pleasure of training with Michelle for the past few months after I had sustained an injury. I came across her website and was so impressed by her work that I had to contact her and train with her! Michelle knew exactly what my strengths and limitations were and was encouraging and motivating as I tried to get back into fitness. She kept the sessions interesting with new and fresh training programs that were switched up regularly which always kept it fun. I was pushed to work my hardest during each session and felt a real sense of accomplishment after each workout. I was blown away by my before and after measurements and am so glad I had the opportunity to train with her! Working with Michelle was nothing but awesome and I'm so glad I did!!
Rajbir–Surrey, BC
---
I have been fortunate enough to train with Michelle for the last 4 months.  I told her I wanted my butt kicked, and not once has she disappointed!!  My workout is different every week – and it pushes me beyond the limits I thought I could achieve. I have noticed major improvements in my upper body and core strength – I even have a tricep now!  To anyone that needs that extra push – or just wants to change up their workouts, I would highly recommend Michelle.  She's creative, positve, supportive and a perfect fit for me!
Robin Day-Surrey, BC
---
I decided to try training with Michelle after seeing her in several Vancouver Sun exercise articles and checking out her website, especially the video clip of the Olympic weight lifting!.  I need to be physically strong for my job and had lost strength after a couple of injuries.  I had worked with other trainers and hadn't noticed any improvement at all.  I'm not sure they "got" that I needed to lift heavy weights, not just girly weights.  It was a completely different experience with Michelle – she pushes me harder than I could ever push myself.  I started to see results very quickly, both in strength gains and weight loss.  Michelle is very personable and enthusiastic about training so makes it a fun experience.  I highly recommend her.
Lorraine Till-Langley, BC
---
Touring across the continent for months on end makes it pretty difficult to get into a proper workout routine when you're in a different city and different climate almost daily.  Michelle at Core Conditioning designed a program to suit our lifestyle and our unique situation.  We were given a program that not only challenged us but allowed us to do all the activities with nothing more than our own body weight and a parking lot.  And i'm sure it provided many laughs for our fans when they saw us walking like 90 year old men for the first few days of the workout plan.  We highly recommend you give Core-Conditioning a shot. Thanks Michelle!
The Veer Union-Universal Motown Records
www.myspace.com/TheVeerUnion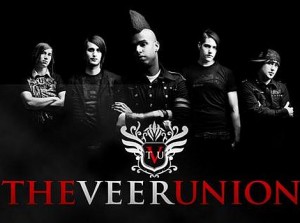 ---
Michelle has worked with the Men's Basketball Team at Kwantlen for the past 2 years. We have now brought her on as our full-time trainer and have seen fantastic results in a very short period of time. Our team has made significant gains in strength and fitness. The players reap the benefits and completely appreciate and respect the workouts that she puts them through. She develops specialized workouts for each individual player to train on their own as well as sport specific training for the group as a whole. She is always smiling and brings positive energy to the sessions. Anyone, individual or team, no matter what your fitness goals are, should be training with Michelle. I would highly recommend Michelle to any individual or group no matter what level you compete at or what your fitness goals are…


Bernie Love
Head Coach, Men's Basketball
Kwantlen Polytechnic University
Surrey, BC
---
I have had the pleasure of training with Michelle for approximately ten months, now.  When I first started with her, I was recovering from a difficult pregnancy during a part of which I was on bed rest for more than two months.  I had gained a significant amount of weight and had also lost a significant amount of muscle.  Since training with Michelle, I feel like a new person.  I'm strong, my balance and posture have improved as has my endurance.  Michelle has a great ability to tailor my routines so that we work on areas that need improvement.  At each session, she pushes you to the next level with encouragement and enthusiasm.  I always look forward to training, even though I know she's going to kick my butt (yet again).  I am so grateful for all of her help.  Anyone would be more than lucky to have her as their trainer.  Thanks, Michelle!
Janette Ferber-Vancouver, BC
---
I was in a car accident in August of 2009. My neck, back, wrist and forearm were banged up pretty good. I spent 4 months in physio with little improvement in my neck and back area. It didn't help that I had previously had major back surgery and was sporting a pair of 1 foot rods around my spine. Everything from sitting, to reaching, to laying flat on my back was painful enough for me to pop T3's, anti-inflamatories, and muscle relaxtants like candy.  I was at some points unable to lift or look after my toddler. Out of frustration with the lack of progress at physio, I asked my doctor to refer me to Michelle. She kicked my butt!!! She worked my strength back up slowly to the point where I didn't need most of the drugs I was on. She was patient enough to work through some of the setbacks and flare ups…. always keeping her cool.. smiling and saying… "it will pass"….. Thanks to Michelle, I have come a long way in my recovery, and feel hopefull that with more training I will have my life back.
You're a nut…but I truly owe you my life.
Helene Hreich-Coquitlam, BC
---
I have trained with Michelle for over 3 years.
Michelle's greatest trait is her constant ability to customize a program specific to my needs.
When I joined Michelle I had a very poor bad back. I had been to physio and nothing was working. Michelle was able to develop workouts to build up my core. My back is so much better today as a result.
Michelle is also very organized and able to accommodate training sessions around your schedule.
I would highly recommend Michelle for your next training session.
Mike Cordoba
Partner
Empresario Capital Partners
---
I had the pleasure of training with Michelle for the past few months, and boy do I see results! She is an amazing person and knows exactly how to push my buttons to get me going. She may not yell at you like a drill sergeant but she knows other methods of getting you to working harder. I love how she customizes a workout plan that fits to your goal, and is willing to work around any bumps you find along the way. I had a lot of fun training with her, and she has great little tricks she can teach you to make your workout a little harder. I have never been so excited to get my inches taken! You won't be disappointed with the results she gives you!
Paulina Li – Burnaby, BC
---
After wiping out snowboarding, breaking my foot a few times, and compressing my spine – working out turned into 'the forbidden' for quite some time.
I had always thought about getting a personal trainer to help me get back in shape, but having the close friendship I do with Michelle, I was a little embarrassed about having her take my measurements and see me in tight clothes.
Michelle made me super comfortable, we did an assessment and she actually took the time to sit me down to get the 'scoop' on my injuries.  Since July, I have noticed that while we are working out, Michelle tries different exercises to help strengthen the areas of my body that are very weak, and even asks me for my opinion.  Michelle is a great friend, but an even better trainer, coach more like it.  She encourages me to work out on days when I try to 'call in sick'; she pushes me to do that extra rep of skull crushers or the few extra minutes backwards on the tread (killer!)  Michelle supports my lifestyle, and when I walk into the gym in something more revealing, I can tell she is as happy with the results, as am I.  I have never been more excited to 'do inches' as I have since we started training in July – it just keeps getting better, and I owe it to you Ms. Roots!
I must say that, over the last few months I've dropped close to 20 pounds, and it's all because of this gal right here.  I just got back from holiday but can't wait to get back in the gym and start toning!
Anu Malhi-Surrey, BC
---
I started training with Michelle four months before my wedding to lose weight, tone up and get healthy. I didn't want a quick fix, I wanted a life style change that worked for me that would be permanent and flexible during busy wedding planning days, and that's exactly what Michelle gave me. She always had back up exercise in case I had difficulties or excuses. She was able to help me exceed my goal in a very professional and effective way. Michelle is a great trainer, and a great person to work with!
Lindsay Trenchard, Vancouver BC
---
"I started training with Michelle because I had found that by training on my own I was unable to really train as hard as i wanted to. Michelle was able to push me past my comfort zone and help me make huge improvements in my speed and strength. The variety and cutting edge techniques that we use in our sessions help me by presenting me with new challenges to face every workout. I have seen results in every facet of my game and am still improving. I look forward to every workout and Michelle helps me to strive to become a more explosive exciting athlete"
Prince Carino, Surrey BC -Kwantlen University College/Filipino Professional Basketball
---
"Michelle was my trainer for the summer to get me in shape for my season for soccer with Douglas College. she was very professional and understanding. If I was hurt we would work on other parts of the body that wouldn't affect that certain area that was injured. Michelle is also very friendly and easy to get along with. After working with Michelle she has made me more determined to stay fit and stay in shape. She will come up with the craziest things for you to do and work on and at first you will be overwhelmed but in the end it pays off and it keeps you wanting more. She's a great trainer and I can't wait to get to the gym again with her!"
Elizabeth Chan, Surrey BC -Douglas College Soccer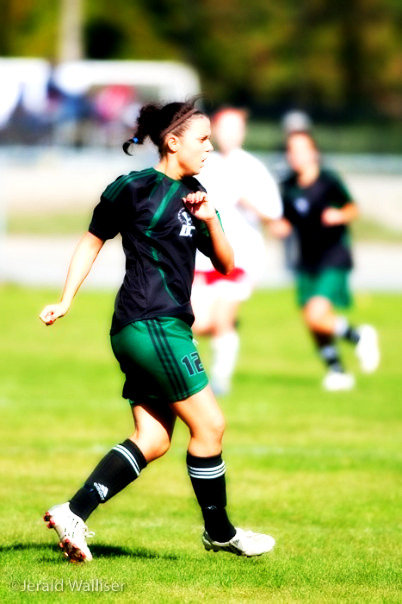 ---
After years of injuries I was told by my physiotherapists and coaches I need to improve my core strength. I have been training with Michelle for three months and the results are incredible. My balance, stability, strength and skill level has improved in every sport I do. Michelle's ability to find and expose your weaknesses and keep you motivated with hundreds of different exercises is what made the difference for me. This is one of the best investments I've made in myself, in a long time.
Gary Foster, Burnaby BC
---
SPORTS TEAM TRAINING:
Michelle has worked with my teams at both the College and High School levels. Our teams have consistently made significant gains in core strength, quickness, agility, and fitness. The kids leave each work out exhausted, but with a smile on their face and looking forward to the next session. Michelle enthusiasm and energy are infectious to the entire group. I would highly recommend Michelle to any individual or team looking to increase their athletic ability and fully realize their potential.
Matthew McKay B.A., B.Ed, Head Coach, North Delta Varsity Boys Basketball
---
We have been using Michelle for the last few years for both our Select and Gold soccer teams with tremendous results. We have been incorporating Michelle into our training plan prior to the start of the season in order to get the players fitness levels up for the start of the soccer season. We have noticed huge results in the players conditioning and fitness particularly in the latter stages of the games and in our training sessions.
Michelle's knowledge of sports allows her to tailor her conditioning sessions and make them sport specific. In our case the drills she brings to the training sessions mimic situational conditions on the soccer field and we have noticed the benefits of this as the players have a step on their competition. Whether it is preparing for the soccer season or for a tournament Michelle not only assists our players in raising their fitness level but also makes it fun for the team to do this.
Kevan Cornes, Head Coach, SurDel Girls Soccer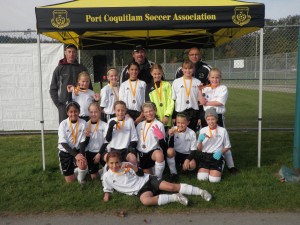 ---
When I was selected as the coach of the 2008-09 SurDel Girls Soccer U13 Gold 2 Venom soccer team, one of my concerns was the transition to playing 11v11 on the big fields after playing 8v8 for 3-4 years on smaller fields. I'm was looking for someone to provide some form of conditioning with focus on speed, agility, quickness, and fitness. I was referred to Michelle by Elise Le Brun, Director, Athletics & Recreation, Athletics & Recreation Services at Kwantlen University College. What an excellent reference this turned out to be.
Michelle provided core conditioning training from June to August 2008 inclusive. She worked on different aspects of core training such as resistance and strength training always keeping the interest from the 12-year old girls. Michelle wasn't lenient either on the players working them hard including the dreaded endurance interval running drills. The training was very effective as evident at the start of the season where the team performed very well, their endurance was high, and there were no signs of injury from the players.
I recommend Michelle to any sports coach who is looking into providing core conditioning to their sports team. I'm already in contact with Michelle to book her services again for my 2009-10 U14 Gold team! 
Victor M.Santos, 2008-09 SurDel Girls Soccer U13 Gold 2 Venom, Coach, 2009-10 SurDel Girls Soccer U14 Gold Venom, Coach