I train a number of different women from varied ages and one common question I get on a regular basis is "how do I get rid of this fat on the back of my arm?" And "will it ever go away?"
The Answer:
There is one common myth I would like to address from the start, just doing 200 triceps dips per day will not do the trick!  You CANNOT spot reduce when it comes to decreasing body fat and targeting the areas of your body you hate the most.  So just as doing 500 crunches per day will not turn a beer belly into a six-pack, performing strength training exercises for your triceps only will not get rid of that unwanted "flub" on the back of your arm.  Yes, exercises like triceps dips can help build the triceps muscle if done correctly; however, for the best results it is important to supplement strength training with cardiovascular exercise and healthy eating to decrease body fat and tone up your arms.
Begin by taking a look at your diet.  Make sure you are eating 5-6 small healthy meals per day in order to keep your metabolism revved up and burning calories throughout the day, be sure to get at least 5 servings of both fruit and vegetables per day, choose whole grains, eat lean meat, and ensure you are getting at least 8 glasses of water per day.  In regards to incorporating cardiovascular exercise into your life, begin by trying to take the stairs instead of the elevator, park a little bit farther away at the grocery store, or try to stand up or walk around during phone calls to begin to burn more calories each day.  Also, find a form of aerobic exercise you enjoy doing that you will stick to, whether it be biking, walking, jogging, rollerblading, or taking part in a group exercise class; try to start by doing a form of aerobic exercise that increases your heart rate for at least 20-30 minutes 3 times per week. 
Lastly, here are 3 exercises to perform to build the triceps muscle and help tone your arms:
Perform 2-3 sets of 12-15 reps of each exercise
1. Triceps Dips                  
Begin sitting on the edge of a chair or the couch with both hands right beside your body gripping the chair.  Slide off the chair so you are only supporting your body weight with your arms and slowly lower your body straight down until you have a 90 degree angle at your elbows.  Squeeze the muscles in the back of your arm to lift your body back up.  Beginners should keep feet flat on the floor and knees bent, but those with more upper body strength can try doing it with legs extended out in front of them.
2. Triceps Press                
Begin by standing or sitting in a chair.  Keeping your back straight, lift a dumbbell (3-5lbs) over your head, and then bend your elbow so the weight ends up behind your head.  Straighten your elbow and return to starting position.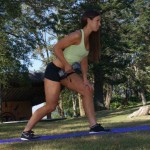 3. Triceps Kickback          
Begin by bending forward from the waist, supporting your body weight with one straight arm resting on a chair, couch, or table.  Hold a dumbbell in the opposite hand with your elbow at a 90 degree angle.  Kick the dumbbell backwards to straighten the arm, squeezing the triceps muscle, and then return the dumbbell back to the starting position.
Email Michelle@CORE-Condition.com for more information about how to get your arms ready summer!
Michelle Roots BA Kin, CSCS, PES