Wow what a fun and exciting event for women's fitness!  In the past I had heard a lot about this event and had just never got around to entering, until this year.  I got a call from my teammate fellow trainer Dawn (who won the novice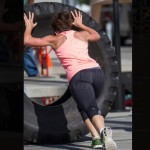 division last year) to form a team with her and without a second thought I said YES immediately.  From there I recruited one of my hard working clients, Jessica, who has been attending my Metabolic Group Ex. Classes for quite some time.  So there we had it, 2 weeks prior to the event we registered as a team in the Open Division (go big or go home right?) With 2 weeks to prepare both mentally and physically we showed up at the event and did the best we could.  Little did we know that "best" would put us on the podium with a Bronze medal! On top of that our teammate Dawn got back on the podium taking home a Silver medal in the all around for her individual scores!!
My overall experience with this event was nothing but positive and I highly recommend it to anyone wanting to challenge their physical strength, looking for an exciting event to train for, or just want to get out and have a fun day competing against some of the strongest and fittest women in BC.
Below are some videos of each of the 5 events we had to compete in and for more information/pictures/videos, check out the FEMSPORT website by clicking HERE
100LBS 75FT. TIRE DRAG
KETTLEBELL RELAY
50 BOX JUMPS
175LBS TIRE FLIP
OBSTACLE COURSE