This weekend I had the pleasure of trying out the Surrey Firefighter Physical Assessment Test and to my surprise I had a lot of fun!
I want to thank the Surrey Firefighter's for allowing me to go through the test and giving me a better understanding of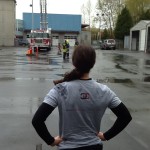 how strong firefighter's are and have to be, to perform their duties each day.
Well i'm going to stick with my motto: "Train for life and be ready for anything" because with minimal time to prepare for this test, the fact that I have been training "for life" I was ready to get through this grueling thing!
Click the link below to check out a highlight reel of me going through the test!