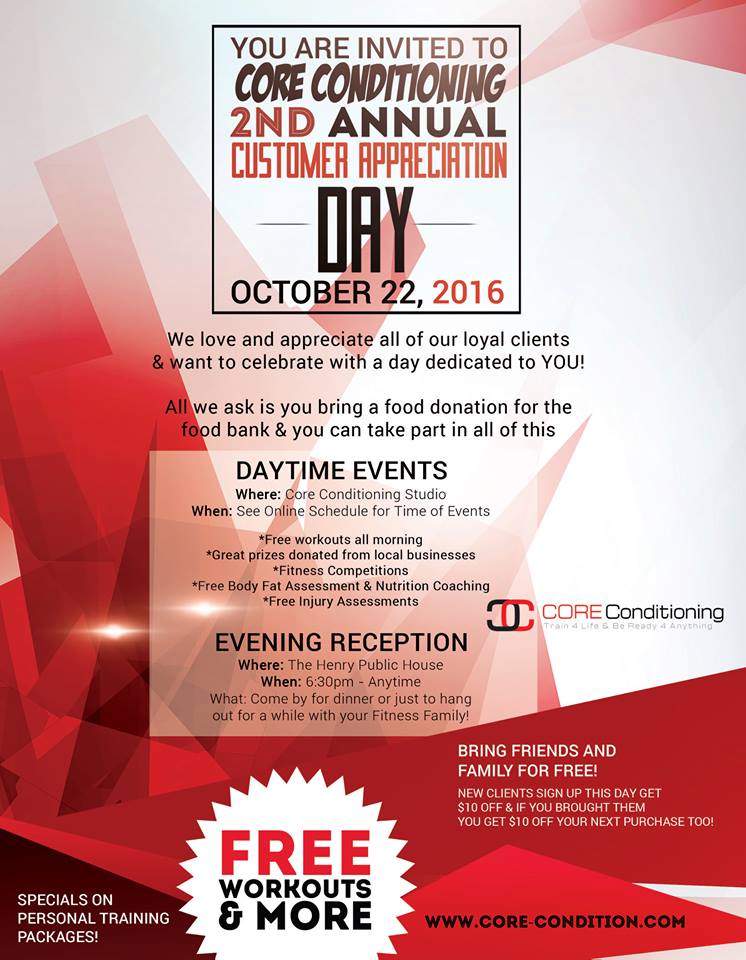 Just as the poster above states: We love all of our loyal clients and wanted to show our love by dedicating a day just to YOU!
ALL FITNESS CLASSES ARE FREE!
Bring friends, family, and/or significant others to try out a class or two.  All you have to do is register to claim your spot in classes, as we have limited spaces in each class.
Check out the classes and activities going on in our class schedule below. If Saturday October 22nd is not showing, click "next" to skip to the following week.
Feel free to register you and your guests for as many classes as you want to try out.
PLEASE HELP THE FOOD BANK – ACCEPTING DONATIONS ALL WEEK
It is apparent that The Surrey Food Bank is currently at an all time low. We would like to do our part to change this and help get them stocked up for the holiday season.
We have many great prizes donated by local businesses (and prizes from CORE Conditioning) and all you have to do is bring a donation from the Food Bank to be entered in the draw to win some great prizes!
Free Body Fat Assessments
Free Injury Assessments
Fun Fitness Challenges
Free Nutrition Advice
Great Specials on Personal Training and Online Training
All Workouts Free!
IF YOU CAN'T MAKE IT DURING THE DAY – COME BY THE HENRY PUBLIC HOUSE AT NIGHT!
We will be holding an evening reception at The Henry Public House in Cloverdale from 6:30pm until whenever you want to stay! Come by and say hi, stay for dinner, or stay all night
It's always nice to hang out with your fitness family outside the studio, come by to meet some new people who are also interested in Fitness and health.
Open to all current, past, and possibly future CORE Conditioning Clients as well as friends, family, and significant others! 
We Would love to have an idea of how many people are thinking about coming so we make sure our reservation will accommodate everyone
PLEASE

RSVP

 FOR THE HENRY SOCIAL BY REGISTERING IN OUR CALENDAR BELOW OR VIA THE CORE CONDITIONING APP! 
(LINK TO DOWNLOAD OUR APP ON OUR HOMEPAGE)