As the winter kicks in and cold dark days are among us, we all crave hearty foods for comfort. Well this low calorie sweet potato lasagna recipe gives you the the warm, hearty, and comforting feeling without all the extra carbs and calories of traditional comfort foods.
There seems to be a common understanding that sweet potatoes are good for you, but do we all know why? Sweet potatoes are nutrition powerhouses, just read about the Wikipedia write up below:
Nutrient content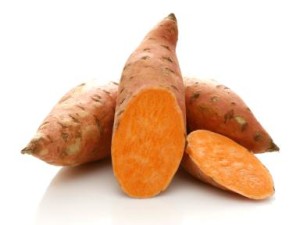 Besides simple starches, raw sweet potatoes are rich in complex carbohydrates, dietary fiber and beta-carotene (a provitamin A carotenoid), while having moderate contents of other micronutrients, including vitamin B5, vitamin B6 and manganese. When cooked by baking, small variable changes in micronutrient density occur to include a higher content of vitamin C at 24% of the Daily Value per 100 g serving.
The Center for Science in the Public Interest ranked the nutritional value of sweet potatoes as highest among several other foods.
Sweet potato varieties with dark orange flesh have more beta-carotene than those with light-colored flesh, and their increased cultivation is being encouraged in Africa where vitamin A deficiency is a serious health problem. A 2012 study of 10,000 households in Uganda found that children eating beta-carotene enriched sweet potatoes suffered less vitamin A deficiency than those not consuming as much beta-carotene.
CLICK HERE for another one of my favourite sweet potato recipes – Sweet Potato Chocolate Chip Cookies
Now let's get down to business – check out the amazing sweet potato lasagna recipe below
Ingredients for Sweet Potato Lasagna
2 large sweet potatoes
1 pound extra-lean ground beef or 97% ground turkey
Olive oil
1 clove garlic
2 cups homemade or store-bought marinara sauce, or 4 or 5 roasted vine tomatoes
1 tablespoon Italian seasoning
Fresh basil, to taste
Sea salt and pepper
1 cup low-fat ricotta cheese or 2% cottage cheese mixed with 1 egg white
1/2 cup reduced-fat mozzarella cheese
Instructions:
1. Preheat the oven to 400°.
2. Begin by slicing Raw sweet potatoes thinly
3. In a large skillet, cooked finely chopped lean beef. Once the beef is cooked all the way through, place it in a large bowl, drain it, and set aside.
4. Once you have removed beef from the skillet, add in olive oil and garlic to cook on medium heat. After about 5 minutes add in marinara sauce and roasted tomatoes, Italian seasoning, basil, salt, and pepper.
5. Pour beef into marinara mix and stir over low heat
6. In a casserole dish, layer a few slices of sweet potato to cover the bottom, then add a layer of meat sauce, and top with a layer of ricotta-egg mixture. Continue to repeat in the same order, with the top layer being the remaining sweet potato slices, meat sauce, and then finish with a layer of mozzarella cheese.
7. Cover the dish with foil and bake in the over for 45-50 minutes. Remove foil for the last 5 minutes of baking.
Give it a try and let me know how it was in the comments below!