I recently completed my certification to add the title Level 1 Certified Nutrition Coach to my name through a great company out of Toronto called Precision Nutrition.  Through this course I learned a lot of new tips and tricks to help clients who struggle with weight loss, gaining muscle, or athletes and weekend warriors wanting to properly fuel their body for exercise.
I wanted to share these very important and easy to follow 5 Habits cr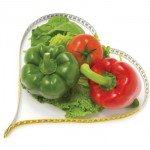 eated by the folks at Precision Nutrition.  This is basically a checklist of questions you should ask yourself as you sit down to eat each meal.
THE HEALTHY EATING CHECKLIST:
1. ARE YOU EATING SLOWLY?
– With each meal sit down and take your time, 15-20 minutes to eat a meal is about right.
– Make sure you stop eating when you are about 80% full because it will take your body a while to send the signal to your brain that you are full, and often by then it's too late and the damage of overheating has been done.
2. WHERE'S THE PROTEIN?
– Is there at least 1 palm-sized portion of protein dense food in your meal?
– Women should aim for 1 palm-sized portion and men should get about 2 palm-sized portions.
3. WHERE ARE THE VEGGIES?
– Do you have at least 1 serving of veggies on your plate?
– 1 portion is approximately the size of a fist, they can be prepared any way you like, and you should aim for a 2-3 portions per meal.
– Shoot for a rainbow and try to mix up different colored veggies.
4. WHERE ARE THE CARBS?
– if your goal is fat loss and you haven't just completed a workout, avoid starchy carbs and opt for a double serving of veggies instead.
– if this meal is post-workout (1-2 hours after) its fine to eat a healthy serving of minimally processed starchy carbs such as: whole grain bread, whole grain rice, oats, or potatoes/yams etc.
5. WHERE'S THE FAT COMING FROM?
– eating fat does not make you fat!
– to support weight loss the body needs some fats from various foods, but try to stick with whole food sources such as: eggs, meats, fish, avacado, olives, nuts, and seeds.
– Spread these fats with meals throughout the day combining sources of saturated, monosaturated, and polyunsaturated fats (approx. 1/3 of each).  Meals higher in carbs should be lower in at and vice versa.
Email michelle@core-condition.com for more information about healthy meal planning or visit www.PrecisionNutrition.com
Michelle Roots BA KIN, CSCS, PES, PN1
www.CORE-Condition.com