There are many health benefits associated with drinking water daily and most people don't actually come close to drinking the required amount of water each day.  The average person should be drinking at least 8 glasses of water each day; but people who live in warmer environments or work out will need more than this in order to replenish the water lost through perspiration and avoid dehydration.  Also, drinking caffeinated beverages will have a diuretic effect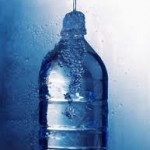 and increase your water requirement each day.  Looking at your urine colour is a good indicator of your hydration level, if it is a light yellow color you are most likely meeting your water demands.  
BOTTOM LINE: As a general rule of thumb, your fluid intake is probably okay if you are drinking enough each day that you rarely feel thirst and your urine is light yellow or colorless. Dark yellow urine, feeling fatigued regularly, or constant thirst?? GET DRINKING!!

THE TRICK:
An easy way to make sure you drink the adequate amount of water each day is to carry a water bottle with you at all times.  Put elastic bands around the water bottle corresponding to the amount of bottles you need to drink each day.  Each time you re-fill your water bottle throughout the day take an elastic band off.  This will help keep you on track and make you more accountable for drinking the required amount each day!!
WATER IS VERY IMPORTANT FOR WEIGHT LOSS AND NORMAL BODY FUNCTION SO GET DRINKING!!!