Circuit training is a type of workout program that combines cardiovascular fitness and resistance training.  It is based on the idea of building routines with multiple "stations" each focused on different muscle groups and is designed to push the body aerobically, while still challenging strength.  Circuit training can be performed with groups of people or independently and commonly used in the ever so popular "boot camp" craze that has been sweeping the lower mainland for the past few years.   The idea is to perform one exercise for pre-set period of time (usually between 45-60 seconds) with a short rest interval between stations (10-30 seconds) and then a longer recovery time between each completed circuit (1-3 minutes).   Circuit training plays an integral role in offseason workouts for many athletes because it's a great way for them to maintain sport specific fitness by simulating work/rest intervals and exercises similar to the demands of their sport.   Apart from current belief, circuit training is not only for women lifting light weights slowly through a series of pre-set machines placed in a circle.  Any circuit can be adapted to challenge all fitness levels and can be a great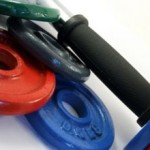 addition to a workout routine.
Benefits of Circuit Training
Works the aerobic system while simultaneously challenging strength by keeping the heart rate up as you progress from station to station with minimal rest periods.
Reduces boredom during workouts through variability of different exercises that can be changed from session to session.
Great for developing basic strength and body tone.
Tends to concentrate of compound exercises that use more than 1 body group at a time and are generally more effective for fat burning.
People of any fitness level can work out in the same training session, as each person can work at their own pace in each station for the given amount of time.
Can get a great workout completed in a minimum amount of time with minimal equipment required.
Can be performed in a gym, in your home, or outside in your backyard, a park, or at the beach!
*Be sure to consult with a physician before beginning any workout routine and consider booking a consultation with a certified personal trainer to help build a circuit training routine based around your fitness goals.
Email Michelle@CORE-Condition.com for more information about circuit training and how to build a circuit training program around your fitness goals and current fitness level.
Michelle Roots BA Kin, CSCS, PES