It is common knowledge that a balanced lifestyle of healthy eating and regular exercise will eventually result in some amount of weight loss, following the theory of creating a calorie deficit of fewer calories in vs. calories burned. To put this into perspective, think of it as 1 pound of fat being equivalent to 3,500 calories; therefore, in order to lose 1 pound you have to create a deficit of that many calories. Although this belief is true to a certain extent, there are many other factors that play a part in weight loss, efficiency of weight loss, and the ability to keep weight off. This would include factors such as: body type, age, genetics, lifestyle habits, metabolic rate, and sleep, to name a few. This article is going to focus on the direct relation of sleep in successful weight loss, as I feel this is something that is very often over looked. With the popularity of late night realty shows, this is an area where many people seem to be depriving themselves and could be the missing link in a journey to weight loss success.
The total hours of sleep you get each night directly affects mood, metabolic rate, hunger, cravings, energy levels, and in turn, weight loss. If you have weight loss goals and are working hard at eating healthy and exercising regularly, to be successful t is critical you are getting a full 7 to 9 hours of sleep each night. While the body is asleep it creates a hormone called leptin that is responsible for regulating hunger and increasing metabolism. Sufficient sleep also regulates the release of another hormone called ghrelin that increases appetite; therefore, adequate sleep will reduce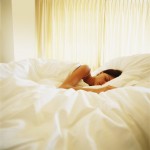 overeating with the regulation of hunger levels and decreased appetite. Studies have also found that reduced hours of sleep will also result in an increase in the stress hormone cortisol, which has been linked to weight gain, most prominently in the abdominal region. Lack of sleep will also affect decision making in relation to food choices because it is believed that when the brain is tired due to sleep deprivation it demands more energy in the form of simple carbohydrates. These carbohydrates are normally not part of your "healthy eating regimen" and are usually high in sugar, calories, and unhealthy fats such as cakes, ice cream, cookies, pasta, and bread etc.
Another large factor attributed to weight loss is regular exercise and beginning each day without a good night's sleep could also result in a lack of energy to do so. A common excuse is usually "I'm too tired to work out today, I would rather take a nap" or if you do make it to the gym feeling fatigued, the intensity level of your workout will be sacrificed.
Here are some tips for getting more sleep each night:
• Set a regular bed time for weeknights and stick to it
• Try to not eat 2 to 3 hours before bed time and avoid foods high in carbohydrates, protein is your best choice
 • Avoid alcoholic beverages, although they may make you feel drowsy, they will actually affect the body's ability to fall into the deep sleep you need to regulate hunger hormones
Email Michelle@CORE-Condition.com for more tips about weight loss and the importance of sleep.
Michelle Roots BA Kin, CSCS, PES
www.CORE-Condition.com