Do you ever feel rushed in the morning? Either you slept in or you chose to only give yourself 15 minutes to get ready and rush out of the house? I head many excuses on a daily basis regarding why people don't eat breakfast, but in my opinion there should be no excuses for missing the most important meal of the day when there are great tasting recipes like this one!
If you love pumpkin like I do, you will love this recipe! It is packed with protein to keep you feeling full for hours and give your metabolism that kickstart it needs in the am. Another great thing about this recipe is that it can be kept in the fridge for a quick mid-day snack also, this will prevent you from going for unhealthy options like chips or cookies. Remember failing to prepare is preparing to fail! So make a few of these at a time and have them ready to go in the fridge!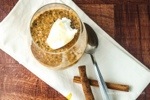 Now let's get down to business:
Ingredients:
Prep time: 3 hours Total time: 3 hours
Serves: 2-3
Ingredients
1.5 cups almond milk
½ cup pumpkin puree
1 scoop Vanilla Protein Powder (24 grams)*
2 tablespoons almond butter (or other nut or seed butter- I use peanut butter)
1 tablespoon raw honey (or agave sweetener)
1 teaspoon vanilla extract
1 teaspoon cinnamon
1 teaspoon pumpkin pie spice OR add next 3 ingredients
¼ teaspoon nutmeg
⅛ teaspoon ground ginger
⅛ teaspoon ground cloves
pinch of salt
¼ cup chia seeds
extra almond milk for topping
Instructions
-Blend all ingredients, except chia seeds, until smooth.
-Place the blended mixture into a resealable large jar (or 2 smaller jars) then add chia seeds. Seal jar and shake.
-Place in refrigerator overnight or for at least 3+ hours. I shook my jars once in between to make sure they didn't become too gelatinous.
-Pour some extra almond milk on top and eat up. Breakfast, snack or post workout recovery is served!
Notes
*Protein powder is optional. Recipe still works without it.
Try it out and let me know how you like it!
Happy pumpkin season
Michelle