Eating unhealthy snacks between meals or skipping snacks all together can truly be diet disasters.  The more sugar you consume, the more sugar the body craves; therefore, snacking between meals on foods that are high in sugar and low in protein will not keep you full and will leave a craving for more "bad foods".  It is important to always have healthy snacks packed with you that are high in protein and nutrients in order to remain feeling full and avoid "pigging out" at meal times due to ravenous hunger.  The key is to avoid rumbling in the stomach and the feeling of hunger, as this is when you are more likely to eat anything in site!  Foods high in protein should be a staple in everyone's diet, not just for those looking to build muscle, it's very important for preserving already existing muscle mass for those all ages. Through eating healthy meals and snacks 4-5 times per day you will keep the body properly fueled, energized, and avoid the desire to eat unhealthy foods for a "mid-day pick me up".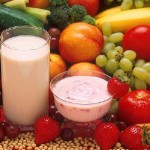 Tips for Successful Snacking:
Preparation is crucial so take time each morning or night to pack a healthy lunch for work or school along with healthy snack options.
Aim to keep snacks around or below 200 calories.
Snacking is important to fuel the body so be sure to choose snacks with a balance of protein, good fats, and carbohydrates.
Do not multi-task.  Eat your snack first and then do other activities or watch TV because not paying attention to what you are eating can cause a person to overeat.
Don't buy it if you don't want to eat it! While grocery shopping don't even buy unhealthy foods, choose lot's of fruits, vegetables, and whole grains to keep in the house.
Take a mental note of the times that you seem to get cravings each day and be sure to have healthy foods on hand to avoid giving into to temptation of sugary snacks.
Here are a few of my favorite high protein snacks:
Handful of raw unsalted nuts
1 serving of Greek yogurt
Raw veggies and hummus
Can of tuna in water
Hardboiled egg
Cottage cheese with fruit
Email Michelle@CORE-Condition.com for more healthy snacking ideas and how to snack your way to weight loss success.
Michelle Roots BA Kin, CSCS, PES