These muffins are a great pre or post workout snack and taste great!!! Try them out….:)
Ingredients
Dry Ingredients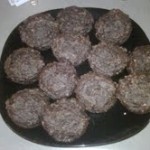 1 1/4 cup whole grain oats
1 cup whole wheat flour
2 1/2 tbsp unsweetened cocoa powder
1tbsp cinnamon (or spice of your choice)
2 tbsp chocolate whey protein powder
1 tsp baking powder
1/2 tsp baking soda
Wet Ingredients
1 large egg
1 cup unsweetened applesauce
½ unsweetened almond milk or non-fat/skim milk
3 tbsp honey
2 tbsp olive oil
1/2 cup dried cranberries
Instructions
1. Preheat oven to 350°F.
2. Lightly spray a 12-cup muffin pan with oil and set aside.
3. In a large bowl, mix together dry ingredients.
4. In a medium bowl, whisk together wet ingredients.
5. Make a well in the center of the dry ingredients and pour in wet ingredients all at once, stirring just until all dry ingredients are moistened. Stir in cranberries.
6. Portion batter evenly into the prepared muffin cups. Bake 20 minutes or until tops spring back when lightly touched. Cool on a wire rack.
Nutrients per serving:
Calories: 182, Total Fats: 4 g, Saturated Fat: 1 g, Trans Fat: 0 g, Cholesterol: 20 mg, Sodium: 122 mg, Total Carbohydrates: 30 g, Dietary Fiber: 4 g, Sugar: 9 g, Protein:  8 g, Iron 2 mg
 OPTIONS: Instead of cranberries you can add raisins, dark chocolate chips, or almonds etc.  Get creative with them!