Try these healthy protein-packed pancakes for your Saturday morning breakfast to start the day off right! They are really easy to make, require little ingredients, and taste like you are cheating when you aren't!!
I like the make them with chocolate protein powder and a sliced banana on top, but you can always use any flavour of protein powder and add mixed berried on top or whatever fruit you choose.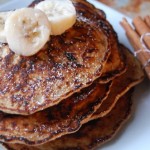 Olive Oil Spray
1/8 Cup Low Fat Cottage Cheese
¼ Cup Egg Whites
1 ½ Scoop Chocolate Protein Powder      
1 Medium Banana, Sliced
1tbsp Sugar-Free Maple Syrup
*** I like to add a tsp of cinnamon, or instead of sugar-free maple syrup try spreading a very light layer of peanut butter on each panacke ***
1. Spray a non-stick pan with oil and set on medium heat
2. In a bowl, combine cottage cheese, egg whites, and protein powder. Use a handheld blender to mix thoroughly. A food processor of magic bullet could also be used to mix it all up.
3. Pour batter into pan. Cook each side for about 2 minutes or until pancake is golden.
4. Top with banana slices or fruit of your choice and syrup.
Nutritional Information:
Calories: 330, Total Fats: 3g, Saturated Fats:0g, Trans Fat: 0g, Cholesterol: 0mg, Sodium: 720mg, Total Carbohydrates: 33g, Dietary Fibre: 4g, Sugars: 16g, Protein: 46g, Iron:1 mg
Enjoy!!
Michelle Roots BA Kin, CSCS, PES