Are you bored of doing steady state cardio on the treadmill?
Want to burn around approximately 200 calories In just 12 minutes?
Want to experience how I do "cardio"??
The treadmill workout below is considered a "Hiit" workout.  Hiit workouts are known to more effectively burn body fat without compromising our muscle mass due to their short, but intense nature.  Want to know more about Hiit cardio training? CLICK HERE To read more about why we love Hiit.
The workout below is just one example of a Hiit-type of workout.  There are many other ways to challenge your body with short intense cardio workouts.  Check out Michelle's infamous 20 MINUTE HIIT WORKOUT HERE.  Hiit workouts can also be completed with other cardio machines, skipping ropes, and no equipment at all!  
But let's take a look at this challenging workout below!
GIVE THIS 12 MINUTE TREADMILL CHALLENGE A TRY!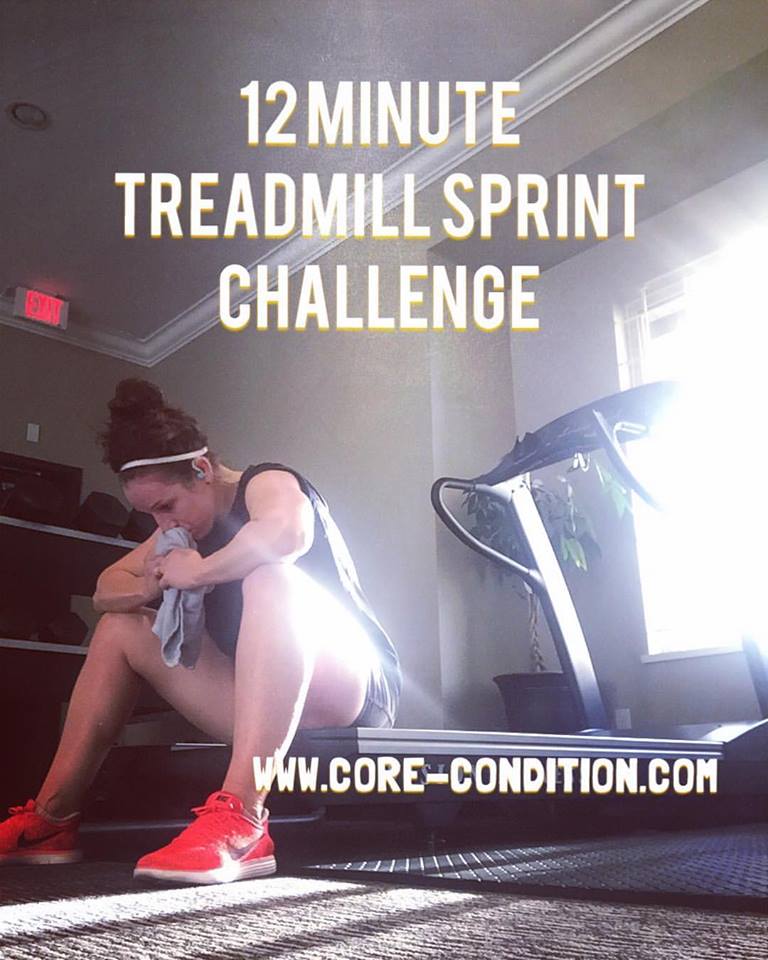 Begin with a proper dynamic warm-up and light jog for 3-mins before you start the sprints!
Begin with the treadmill at incline 12 & a comfortable sprint speed (aim for 5-7)
Sprint for 20 sec – carefully hop off to the sides of the treadmill for 10 seconds – the hop back on for another 20 second- the hop back off for ten seconds (while off this second time – drop the incline one level to 11)
Then…….. repeat this by doing 2 – 20 second sprints at at level 11 (do not reduce the speed!) and continue like this each minute dropping the incline by 1 level – until you reach incline -1 which would be your last sprints!
NOTE: once I hit level 6/7 incline I begin increasing my speed by 0.5 each time I reduce the incline – so by the last sprints I am up to my peak sprint speed of 11-12!
Give it a try, but be careful!
SHARE WITH A FRIEND YOU WANT TO CHALLENGE!