I got this in an email from Mike Whitfield (www.trainwithfinishers.com) and had to share with my audience also. At CORE Conditioning, my soldiers know how I feel about "fad diets" and "trendy workouts" — meaning we are not about it. It's all about finding something you can stick to long term, something you enjoy, and something that will produce long term results.
No Quick Fixes! The pounds were not packed on in 30 days, so don't expect them to be gone in 30 days!
Read on for some great tips from Mike!
Do You Sometimes look like this when you check your results or step on the scale? Read below to find out what you might be doing wrong!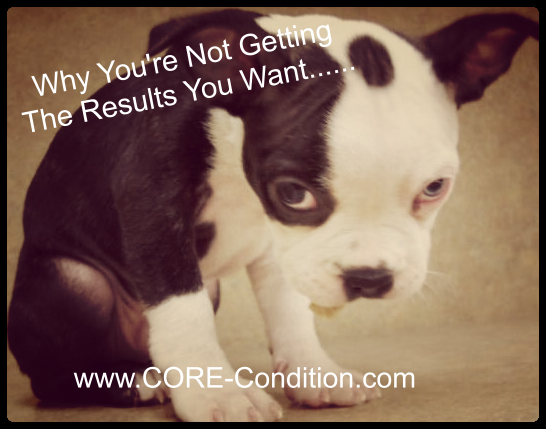 Why You're Not Getting the Results You Want
#1 – You Program Hop
Day 1- "I think I'll do this cool KB Swing and Pushup workout I saw on YouTube. The magazine said it burns 1.2 billion… gagillion…. camillion…. sicilian… calories per second.
Day 2 – I think it's Biceps and Abs Day. Not sure why… it just feels right.
Day 3 – I wonder what (insert any celebrity here) does. I think I'll do whatever they do.
You get the idea. And I get it. You get "bored". You want to know what else is boring though?…
You getting an overuse injury, keeping you on the couch reading Sports Illustrated or Woman's World. Oh yeah, and totally frying your nervous system is boring, too… because you'll end up with "brain fog" all day (if you're not already experiencing it).
***Serious people follow a structured, sensible program for 4 weeks. They track their progress. They write down their reps and weight they used so that they try to progress within those 4 weeks.
#2 – You're on Info-Overload and it's YOUR Fault
You keep buying stuff… pills, diet books, workouts… whatever it is and you're not taking any action on it.
That's like someone wanting to become a better gardener, so they buy subscriptions to gardening magazines, attend gardening seminars and visit the bookstore every week to buy more gardening books…
… but they still don't have a garden.
***Serious people invest in themselves in ONE program that has only the info they need. They follow the REAL, DOABLE strategies laid out for them by a coach that has been there. They take action on it immediately and track their progress.
#3 You're Not Holding Yourself Accountable
If you eat like crap all week or bail on your exercise routine because you're "too busy", who do you have to tell that to?
Exactly.
When you're not accountable, you get away with a lot more. That's not a good thing. That holds you back and you know it.
**Serious people use accountability. They are willing to "step up" and admit that they need some structure and some solutions. They use their peers and more importantly, they use their mentors. Don't have a mentor? Get one. It's a game-changer…. but only if you're serious.
If you are serious… you won't wait until the new year. You desire a change… an attitude adjustment on your health.
Thanks for a great post I couldn't help but share Mike!
WANT TO LEARN HEALTHY EATING AND TRAINING HABITS TO LAST A LIFETIME?? NO FADS HERE, JUST LEARNING HOW TO ENJOY "REAL LIFE" WHILE LOSING INCHES AT THE SAME TIME! —  CLICK HERE TO FIND OUT MORE ABOUT OUR (ALL ONLINE) UPCOMING NOVEMBER HEALTHY FOR THE HOLIDAYS 21 DAY CHALLENGE!