Yes it's true! These little bites of heaven are all natural, you don't have to bake them, and are low calorie!
These are great to have in the fridge for a little post-dinner dessert or a guilt-free snack.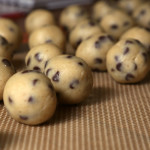 Ingredients:
1 Cup Oats
1/4 Cup PB2 or Natural Peanut Butter/Almond Butter
1 TBSP Ground Flaxseed + 3 TBSP Water
Optional: Dark Chocolate Chips
Directions:
Combine water and flaxseed and let it sit for a minute or two.
Then combine all other ingredients until they are all mixed together well.
Now roll the dough into little balls of goodness and eat them right away or chill in the fridge until it's time to consume!
Who said eating clean couldn't be tasty???
Enjoy!
Michelle