Are you not able to eat oats due to allergies? or just bored of eating oatmeal in the morning?
Perhaps you are looking for a way to get more protein in your breakfast?
This recipe is definitely worth a try!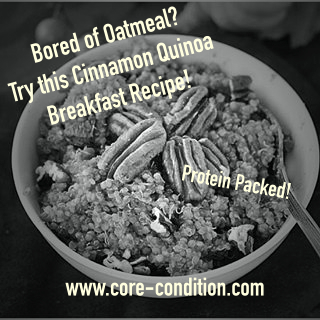 Ingredients:
(Makes 4 Servings)
2 cups soy or almond milk (use unsweetened version to decrease sugar intake)
1 cup quinoa, rinsed
3 Tbsp honey or brown sugar, if desired
1/4 tsp cinnamon
1/2 cup dried fruit (raisins, cherries, apples, etc.) or fresh/frozen berries taste great also!
1/4 cup toasted pecans or unsalted almonds (Also tastes great with 1 tbsp of almond butter on top too!)
Other optional add-ins: sliced banana, sliced apple, chia seeds (more fibre), peanut butter etc. Get creative!
This is How it's Done:
1. Bring milk and quinoa to a boil in a medium saucepan.
2. Reduce heat to low and simmer, covered, for 15 minutes.
3. Add honey or sugar, cinnamon and dried fruit.
4. Continue to simmer, uncovered, until most of the Silk has been absorbed, about 5-7 minutes.
5. Remove from heat, spoon into bowls and top with toasted pecans.