This is a great healthy twist on the traditional Shepherd's pie recipe without sacrificing taste.
INGREDIENTS: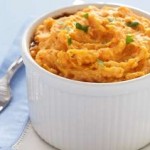 • 5 to 6 yams (depending on size)
• 1 tbsp olive oil
• 1 yellow or white onion, chopped
• 1½ lb lean ground chicken
• 3 cloves garlic, minced
• 4 oz mushrooms, sliced
• 2 carrots, sliced
• 2 stalks celery, sliced
INSTRUCTIONS:
1. Peel yams and cut into small pieces. Bring to a boil on stovetop and let simmer 20 minutes or until soft. Mash with a hand mixer or hand masher and set aside.
2. Pre-heat oven to 350 degrees. Heat olive oil in frying pan. Add onion and sauté about 3 minutes. Add ground chicken and garlic. Once chicken is almost cooked through, add mushrooms, carrots, celery and sauté until the chicken is fully cooked. In a deep baking dish, layer the chicken mixture on the bottom, cover with a thin layer of mashed yams, then another layer of chicken and top with the remaining yams. Bake for about 20 minutes, then broil for 5 minutes. Let cool 5 to 10 minutes and serve.
"Goes great with a green salad topped with lemon juice and flaxseed oil," says Oxygen reader Karoline. "It tastes great the next day too, so make enough that you have lunch for the next day or so!"
NUTRIENTS PER SERVING:
Calories: 390, Total Fats: 13 g, Saturated Fat: 3 g, Trans Fat: 0 g, Cholesterol: 75 mg, Sodium: 75 mg, Total Carbohydrates: 48 g, Dietary Fiber: 8 g, Sugars: 16 g, Protein: 22 g, Iron: 2 mg
What are you having for dinner tonight???
Enjoy!
Michelle Roots BA KIN, CSCS, PES