These potatoes make a great healthy side dish to eat alongside a grilled chicken breast and vegetables of choice.  I also enjoy these potatoes with some asparagus and an oven baked salmon steak. YUMM!!!
Ready in 20 minutes • Makes
6 servings
• 1 cup low-sodium chicken broth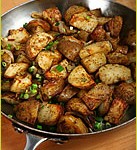 • 1/2 onion, diced
• 1 1/2 tbsp ginger, minced
• 4 cloves garlic, chopped
• 6 medium sweet potatoes, peeled
and cut into cubes
• 1 tsp cinnamon
• 1 tbsp honey
• Sea salt and pepper to taste
1. Heat a large skillet on medium high heat, add 1 tbsp of broth and sauté onions until soft.
2. Add ginger and garlic and mix together with onions.
3. Add sweet potatoes, cinnamon, honey and remaining broth. Stir and let simmer until potatoes are tender (about 15 minutes).
4. Season with salt and pepper. Serve hot. 
NUTRIENTS PER SERVING:
Calories: 141, Total Fats: 0 g, Saturated Fat: 0 g, Trans Fat: 0 g, Cholesterol: 0 mg, Sodium: 54 mg, Total Carbohydrates: 32 g, Dietary Fiber: 4 g, Sugars: 12 g, Protein: 3 g, Iron: 1 mg