No, you did not read the title wrong! This recipe is 100% clean and good for you chocolate fudge
  YOUR WELCOME!!!
Ok enough messing around let's get right down to it so you can get started now.  There are many ways to switch up this recipe and I will give a few at the bottom, but feel free to get creative with your creations!
Clean Eating Chocolate Fudge Recipe
1/2 Banana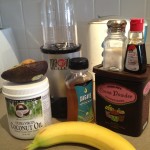 1/2 Avocado
1/4 Cup Coconut Oil
1 Tbsp Agave
1/4 Cocoa Powder
1.2 Tsp Vanilla Extract
Pinch of Salt
Directions:
1. Throw all the ingredients in a food processor (I just use magic bullet, but food processor would work better)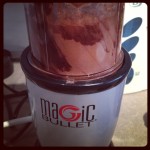 2. Line a small container (plastic container, mini loaf pan or small baking dish) with parchment or wax paper.  This recipe doesn't make a lot, so I use a sandwich size Tupperware container.  If you use a larger container, but still want thick fudge be sure to double the recipe.
3. Scoop mixture into the container and top with dark chocolate chips, shredded coconut, chopped almonds, dried cranberries, or whatever you like.  I used Coconut chips from Trader Joe's
4. Place in freezer for 30-60 minutes or until the fudge is firm enough to cut.
5. Remove and cut into pieces, but be sure to store in the freezer so they don't melt

6. ENJOY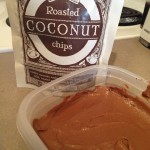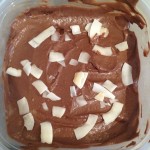 Using a small sandwich sized pan this recipe made 9 squares of thick fudge.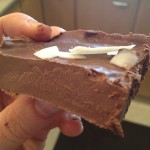 Calories per square = 73 (not including coconut chips)
Options:
add a Tbsp of natural peanut butter or your favorite nut butter to the mix.  You could also use PB2 (Powdered peanut butter) for peanut butter flavor with less calories.
add some chopped dry roasted almonds, pecans, or walnuts to the mix to increase the protein content and give the fudge a crunch.
add some protein powder to increase the protein content.
use 1 whole banana and no avocado or 1 whole avocado and no banana.  You can taste the banana a little bit in the fudge so if you are not a fan of banana perhaps you should go with a whole avocado.
Get creative and let me know what creations you come up with!  These are great to have in the freezer when you just need a little something after dinner to kill a sweet tooth, one square is all you need!
Until next time,
Michelle