Sounds to good to be true right??? Well I have good news…..It's Not!!!!
When I ask a lot of clients what is keeping them from hitting their weight loss and fitness goals, they say "my sweet tooth".  I crave chocolate and all kinds of goodies, especially late at night.  My response is always "well guess what, you are human!".  Yes, it's true we all have that guilty little pleasure that tastes so yummy it's hard to say no to sometimes; however, it's true eating these calorie dense foods at the wrong times of day could be detrimental to our weight loss efforts.
What if we had a craving killer, that was still right on track with our clean eating plan?? Enter the recipe below!  Whip up a batch on a Sunday night, then you have a enough treats for the week.  The biggest challenge, not to eat them all in one sitting!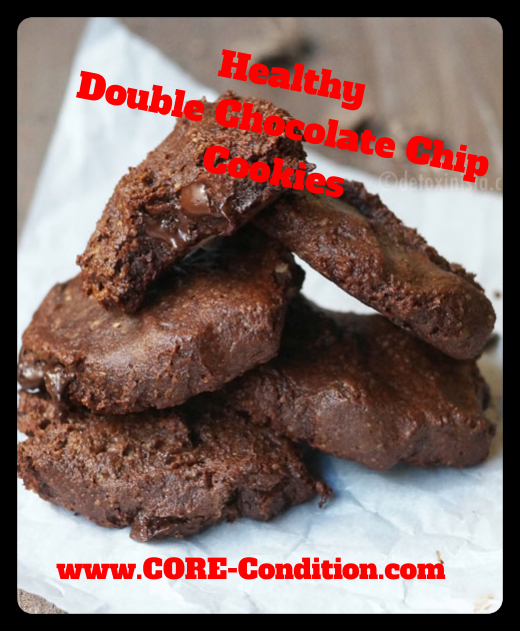 Now let's get to the important part:
Double Chocolate Cookies
Ingredients:
1 cup whole grain flour
½ cup coconut flour
tablespoons unsweetened cocoa powder
A pinch of salt
3/4 cup Truvia
1/4 cup applesauce
3 tablespoons canola oil
3 large eggs
1/4 teaspoon vanilla extract
1/2 cup 70-85% chocolate (I use dark chocolate), cut into small pieces
How It's Done:
1. Combine flour, cocoa, vanilla, and salt in a bowl, stirring with a whisk.
2. Place Truvia, applesauce, and oil in a bowl; beat with a mixer at medium speed until well combined (about 5 minutes). Add eggs, 1 at a time, beating well after each addition.
3. Add flour mixture to applesauce mixture, beating at low speed just until combined.
4. Add chocolate; beat at low speed just until combined. Cover with plastic wrap; chill 30 minutes.
5. Preheat oven to 350°. Make balls of dough and place about 2 inches apart onto baking sheets lined with parchment paper. Flatten to shape them like cookies. Bake at 350° for 8 minutes or until almost set. Cool on pan 2 minutes or until firm. Remove cookies from pan; cool on wire racks.
Try them out and let me know what you think!
Remember eating clean doesn't have to be boring or tasteless!  Possibilities are endless!