Ok so we seem to be full into the swing of fall and by request I am keeping the healthy pumpkin recipes coming!  Try these bars out for a great healthy snack or little dessert to kill a sweet tooth after dinner

If you are as obsessed with pumpkin and coconut as I am, you will love the two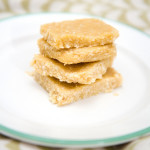 combined in these yummy bars!
Here's what you will need:
INGREDIENTS:
1 cup unsweetened coconut flakes
3 Tbsp canned pumpkin (no sweetener added-just straight pumpkin!)
2-3 tsp honey or agave sweetener (adjust to desired taste)
2 tsp coconut oil
1/4 tsp vanilla
1/4 tsp coconut extract (hard to fine, if you don't have it just double the amount of vanilla you use)
1/4 tsp cinnamon
1/4 tsp pumpkin pie spice
1/8 tsp salt
1 1/2 tsp – 2 tsp stevia or granulated all natural sweetener (adjust to taste)
1-2 Tbsp water (adjust to desired texture/consistency)
HOW TO MAKE ALL THIS INTO SCRUMPTIOUS BARS:
1. Combine all ingredients in a food processor, except the water.
2. Process until well combined, if too thick/grainy add water
3. Press the mixture into a loaf pan lined with parchment paper and refridgerate for 2-3 hours until firm
4. Cut into bars and enjoy! Recipe usually makes about 8 bars, eat 1 and store the rest in the fridge or freezer for later!
APPROXIMATE MACROS PER BAR (based on 8 bars)
64 calories
3g carbs
6g fat
1 g protein
I hope you enjoy these bars, please feel free to email me at Michelle@CORE-Condition.com with feedback!
Happy October!