Well I came home around my usual time tonight (9pm) after teaching an amazing Metabolic Group Exercise class at my studio (Info about classes HERE) and I didn't have a lot of calories left in my daily allowance.  I needed to get my protein up to help feed my muscles why I sleep and make sure I hit my required protein numbers for the day.  I was craving something a bit more sweet but nothing too filling and what was created was AMAZING!!!
Ok enough teasing…..here is the recipe: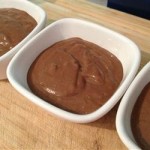 Chocolate Peanut Butter Protein Pudding
1 scoop Vanilla Whey Protein Powder ( you can add 2 scoops depending on how much protein you need & you can use chocolate flavor too!) – I use Optimum Nutrition 100% Natural Whey Protein
1 TBSP PB2 – Powdered Peanut Butter
1 TBSP Unsweetened Cocoa Powder
1/4 Cup Unsweetened Almond Milk
2 packets of Stevia
Mix all the ingredients together in a microwaveable bowl or mug and pop it in the microwave for 30 seconds to 1 minute (or until it begins to get a little bit thicker and fluffy and not so runny).  Let it sit for a few minutes and then dig into this chocolatey goodness!
Calories: 182
Protein: 27.8g
Fat: 3.5g
Carbs: 9g
NOTE: If you do not have PB2 feel free to mix in anything else you like such as ground flax seed, chia seeds, or 1/2 TBSP of all natural peanut butter even?
The protein powder I recommend and PB2 can both be purchased for great prices on Amazon by CLICKING HERE
Enjoy and please feel free to email me if you come up with any other flavor concoctions that are a must try!!
Michelle
Michelle@core-condition.com