It's important to start your day off with a healthy protein packed breakfast in order to kick start your metabolism and fuel your body for success.  Eating more protein in the morning will help rev up your metabolism and keep you feeling full for longer, which will lead to eating less throughout the day.  Breakfast is just that: breaking the fast!  The body is in a fasted state when you wake up because you have gone approximately 6-8 hours without any food, so it's very important to get something healthy in your stomach almost immediately.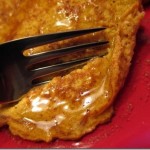 Pumpkin Protein Pancakes
*makes 1 serving – 3 medium sized pancakes
Prep time: 5 minutes
Cook time: 5 minutes
Ingredients:
2/3 cup old fashioned oats
¼ cup cottage cheese
¼ cup canned pumpkin
1 egg
1 egg white
½ teaspoon cinnamon
1 tablespoon honey
Directions:
1. Spray pan with cooking spray and heat to a medium heat
2. Combine all ingredients in a small bowl and blend with an immersion blender until batter is relatively smooth and all ingredients are fully mixed
3. Pour batter onto the warm pan to form 3 medium sized pancakes
4. Allow to cook until edges start to harden, about 3 minutes
5. Flip pancakes and allow to cook until batter is no longer runny, about 2 more minutes
6. Top with syrup, nutmeg, or desired toppings and enjoy J
Email Michelle@CORE-Condition.com for more healthy breakfast recipes and tips for fuelling your body for success.
Michelle Roots BA KIN, CSCS, PES, PN1