When clients sit down with me for either a personal training initial consultation or a nutrition consultation, a common thing I hear is "I'm way to busy in the morning to eat breakfast", or "I'm never hungry in the morning so I don't like to eat breakfast".  These all sound like excuses to me? I'm not being rude or judgmental, but I just like to think that if something is important to someone they will make time for it.  Just like making time to watch your favorite tv show or making time in your busy schedule to meet your friends for drinks.  Something as simple as eating within 20-30 minutes after you wake up is easily fit into a busy schedule.
DON'T WORRY – That's where I come in!
I am here to help
Their are many "make ahead" healthy breakfast ideas that are packed with protein and nutrients to give loads of energy for the day.  Today I'm going to share one of the most popular recipes from our January New Year New You 21 Day Challenge Meal Plan.
But wait before I do that, let's talk about why it's so important to eat breakfast (or at least something small) within 20-30 minutes of waking up.
Let's break down why we eat breakfast:
Break the fast – since we have been sleeping for 6-8 hours without eating, we want to let our bodies know we are awake and get that metabolism going! Eating breakfast within 30 minutes of waking up gives the body an energy boost and tells our metabolism to start burning calories.
We need the energy to get through the day! We all seem to have long and completely packed days, so fueling up with a hearty breakfast will give you energy to take on the day.  People who skip breakfast are normally those who get really "snacky" or hungry mid-afternoon or late at night because they didn't get enough food earlier in the day.  Avoid late night and unccessary mid-afternoon chocolate binges by eating breakfast!
Something small is better than nothing!  Even if you are really busy in the morning, everyone has time to take 5 minutes each morning to even eat something small (such as the recipe below) or even whip up a shake and drink it on the go in the car.  Always being prepared will stop you from grabbing a muffin or doughnut at the local coffee shop while on the road.
1 tip I like to give people to think about is: eat like a king earlier in the day and a peasant later in the day.  Meaning, food is fuel and gives your body energy right? First thing in the morning you need energy to get you through the day, later in the day you don't need a huge energy boost to go to sleep?
FAILING TO PLAN IS PLANNING TO FAIL!
Now on to this amazing recipe!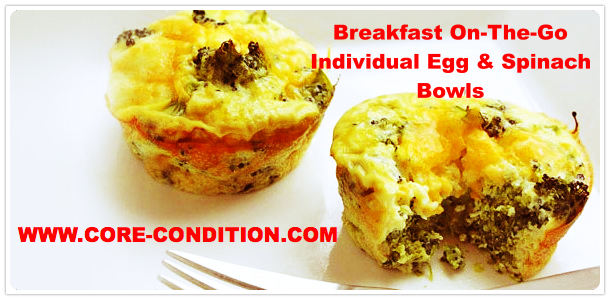 INGREDIENTS:
• 8 large egg whites, (recommend free-range)
• 1 whole egg
• 1 cup baby spinach, torn or chopped into small pieces
• 1/2 cup diced tomatoes
• 1/4 cup feta cheese, fat-free
• 1/2 teaspoon black pepper
• Kosher or sea salt to taste
HOW TO MAKE THEM:
Preheat oven to 350 degrees.
Whisk together all ingredients in a medium mixing bowl. Lightly mist 4 (1/2 cup) ramekins with
nonstick cooking spray and evenly divide egg mixture into bowls.
Place ramekins on a cookie sheet and bake 20 minutes or until eggs puff and are almost set in the
center. Serve hot.
Feel free to add more types of vegetables and switch up the recipe a little bit too!  The possibilities are endless, I like adding peppers or even broccoli tastes great also.
This is one of the many amazing recipes you will find in our RESOLUTION REBOOT 21 DAY CHALLENGE MEAL PLAN 
Register now before it's full!!