This is a great go-to dinner recipe that the whole family will enjoy! To alter this recipe for 1 serving, use 1 chicken breast, 1 cup of chopped broccoli, 1 wedge of Laughing Cow Cheese, and 1 egg white (all other portions should be fine).
Pair this chicken with some grilled or steamed vegetables of choice for a great well rounded meal!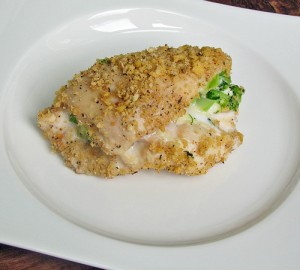 Makes 6 Servings
Ingredients:
• 3 large boneless, skinless chicken breasts
• 1-2 cups cooked chopped broccoli
• 3 wedges of The Laughing Cow Cheese (regular flavour)
• 1/4 cup Panko breadcrumbs
• 1/4 cup whole wheat breadcrumbs
• 1 Tbsp Italian Seasoning
• 1 tsp pepper
• 1 tsp salt
• 2 egg whites
• 6 toothpicks
• Spray Oil (optional)
Directions:
1.Preheat the oven to 350 degrees.
2.Wash and dry the chicken breasts. Slice the chicken breasts length wise into two equal sized cutlets. You should have 6 cutlets.
3.Line a cookie sheet with parchment paper.
4.Place egg whites in a shallow dish and set aside.
5.Mix Panko bread crumbs, whole wheat bread crumbs, Italian seasoning, salt, and pepper in a separate shallow dish and set aside.
6.Open The Laughing Cow Cheese wedges and separate into 6 equal pieces. Spread one piece of The Laughing Cow Cheese onto chicken cutlet. Add the cooked broccoli on top of the cheese. Roll chicken cutlet as tight as possible. Secure with 1-2 toothpicks.
7.Next, take the secured cutlet filled with cheese and broccoli and brush lightly with egg whites. Immediately, place chicken cutlet into bread crumb mixture to cover. Place secured chicken cutlet, seam-side down, onto cookie sheet lined with parchment paper.
8.Repeat steps with other chicken cutlets. Spray chicken cutlets lightly with spray oil.
9.Bake chicken cutlets for 20-25 minutes until done. Serve with left over broccoli and brown rice.
Nutrition Info Per Serving: Calories: 221, Fat: 3g, Carbohydrates: 13.5g, Fibre: 2g, Sugars: 1.6g, Protein: 32.4g
ENJOY!!!