(Makes 12 Balls)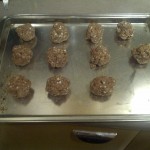 ½ cup rolled oats
¼ cup whole wheat flour
¼ cup natural peanut butter (or other nut butter)
¼ sugar-free maple syrup
Optional: 1 Scoop Vanilla (Chocolate would work also) Whey Protein Powder
Optional: ¼ semi-sweet dark chocolate chips or Cocoa Powder
Optional: 1 Tbsp Honey/Agave
Put rolled oats in a food processor and mix until you have a flour-like consistency. Add the rest of the ingredients and mix until a rough dough is formed.
(If you don't have a food processor, no worries just keep it "oldschool" and mix it in a large bowl with a wooden spoon:).  This is how I mixed it!)
Test dough to see if it will hold a ball. Add water to the dough if it is too dry.  Make dough into small balls and place in fridge.
For One Ball (Without Options) = 71 calories, 3.0g Fat, 9.7g carbohydrates, 2.1g protein, 0.7g fibre, 26mg sodium.
When I make these, I add 1 scoop of vanilla protein powder to increase the protein content and I also grind up ¼ cup of dark chocolate chips until close to a powder and throw that in the mix also.
Another option is substituting maple syrup with honey or agave nectar.
Get creative with these and see what you can come up with! Let me know what you come up with!
These are a great snack when you need a little energy boost or need to curb a sweet craving.
YOUR CHALLENGE: Make these and try not to eat them all in one sitting! Remember healthy options are good, but not if you eat too many of them! They will keep in the fridge for about a week
ENJOY!
Michelle Roots BA Kin, CSCS, PES
www.CORE-Condition.com