Some people have a sweet tooth and some prefer salty snacks to fulfill a craving; however, either way the processed options to fulfill both of these cravings are normally higher in calories, trans fats, additives, sugar, and sodium.  Even though I believe that everything is allowed in a balanced diet in moderation, it's always better if you can find a healthier way to fulfill a craving without having to go for store bought processed foods.  What if I told you I had a great recipe to replace your chip craving? Well I do!
Enter Homemade Baked Sweet Potato Chips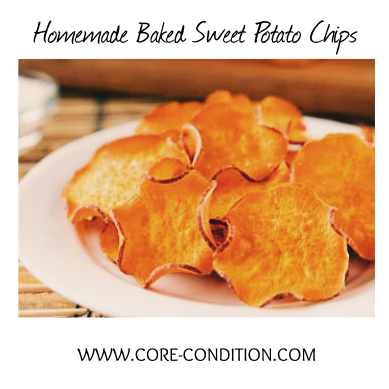 These yummy chips are super easy to make and are great to fulfill a salty or a sweet craving (I'll show you how below!)
Here's how it's done:
1. Thinly slice sweet potatoes and then lay them on a baking tray.  Do not forget to lay a baking sheet on the tray first.
2. Lightly spray the potatoes with cooking spray (canola) or coconut oil spray
3. Sprinkle the potatoes with sea salt OR I like to use pepper instead of salt.  If you want to kill a sweet tooth, try mixing a little bit of stevia in a bowl with cinnamon and then sprinkle the cinnamon and "sugar" mixture over the chips
4. Bake for 15-20 minutes at 400 degrees or until the edges of the chips curl up.  They get soft quickly, so it is best to enjoy them right out of the oven
Give them a try and let me know how you flavor your chips in the comments below!