Everyone would love a high protein low carb meal option that not only tastes great, but can be enjoyed guilt-free! Recently I was in Orlando for the IHRSA 2016 conference and ate this amazing meal that included charred ahi tuna and what they called "quinoa grits".  Now I know for a fact the version that I ate was not very healthy as I could taste the creamy sauce and yummy cheeses added into the mix; however, this sparked my interest to come up with a healthier version of this amazing food.
Well I did it!
Enter this protein packed cheesy quinoa recipe that is high protein low carb, and tastes like a cheat!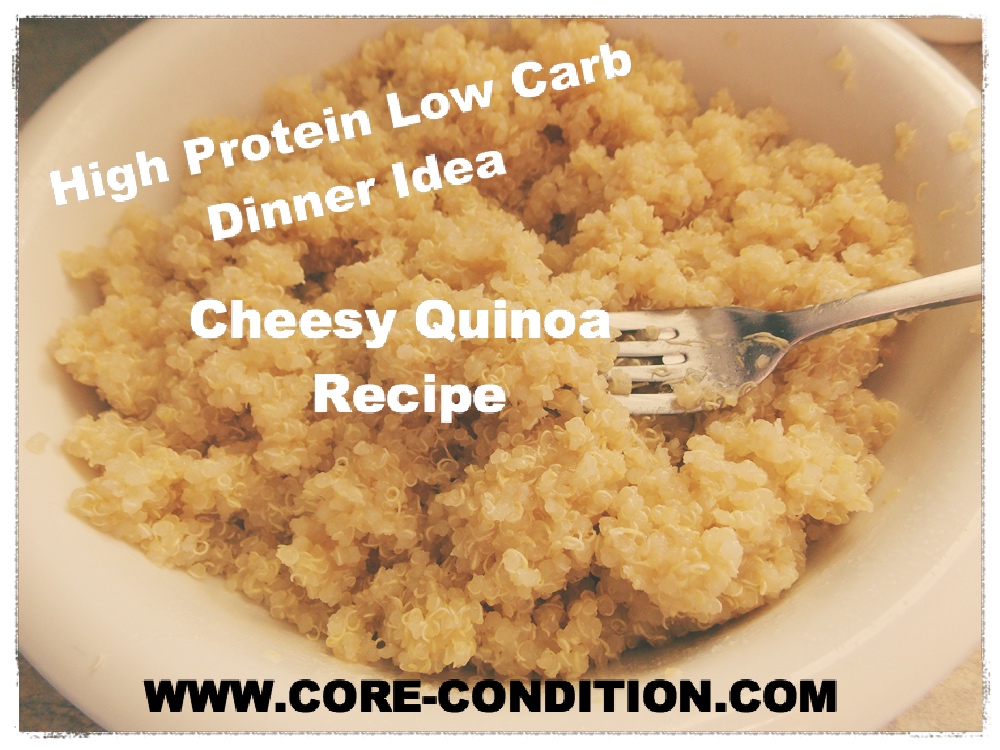 I like to saute some spinach, brussell sprouts, and/or broccoli to mix into the quinoa (or any other vegetable you might like) and then eat it alongside a grilled chicken breast or salmon steak to complete a well rounded healthy meal.  Although it tastes great just on it's own also! Try this great salmon recipe that would be a great alongside this high protein low carb quinoa recipe.
If you want to add in a little bit of "good carbs" – try slicing up a few baked sweet potato pieces or butternut squash and mixing it into the quinoa (you wont regret it!).
Cooking Time = 20 Minutes
This recipe can be multiplied by 2, 3, 4, 5, 6, 7, 8, 9, 10.
| | |
| --- | --- |
| 2 cups | water |
| 1/2 cup | quinoa |
| 1/2 ounce | goat cheese |
| 1/2 ounce | Parmigiano-Reggiano (grated) |
| 1/8 tsp | salt |
Place the water in a small sauce pan over high heat.
When the water boils, add the quinoa. Reduce the heat to a high simmer. Cover the pan partially. Cook until the water is almost evaporated. Stir occasionally.
When the quinoa is just tender, add the goat cheese, the Parmesan cheese and salt. Stir until the cheese is melted and serve.
Nutrition Facts
Serving size = about 1 cup
Servings = 2
Amount Per Serving

| | |
| --- | --- |
| Calories 203 | Calories from Fat 52 |
| | % Daily Value |
| | |
| --- | --- |
| Total Fat 6g | 9% |
|     Saturated Fat 2g | 12% |
|     Monounsaturated Fat 2g | |
|     Trans Fat 0g | |
| Cholesterol 8mg | 3% |
| Sodium 285mg | 12% |
| Total Carbohydrates 28g | 9% |
|     Dietary Fiber 3g | 12% |
|     Sugars 0g | |
| Protein 10g | |
Vitamin A 2%
Vitamin C 0%
Calcium 11%
Iron 12%
Vitamin K 0 mcg
Potassium 248 mg
Magnesium 88 mg