Guest Post From One of our Amazing CORE Conditioning Trainers – Sarah Mcfadyen
CLICK HERE to find out more about Sarah and her expertise!
Tuscan Bean and Kale Soup – Nutrient-packed and easy to make
A hot bowl of soup is one of the best comfort foods that hits the spot during the winter months. However, soup does not have to be creamy and rich in order for it to be delicious. The Tuscan Bean and Kale Soup is not only satisfying, but it's loaded with all the right nutrients to keep your body healthy and happy!
Ingredients:
2 cups white beans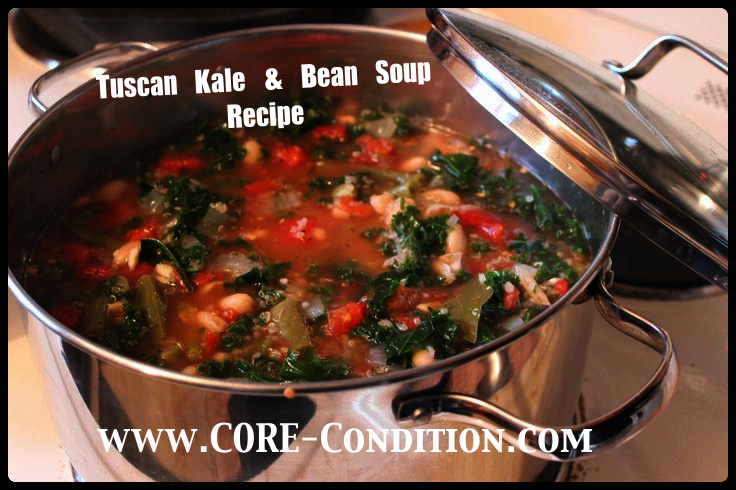 1 cup fresh sage or basil leaves
½ cup olive oil (¼ C + ¼ C later)
20 cups of chicken broth or vegetable broth (4 boxes) – look for the low sodium options!
6 oz. chicken, chopped
2 onions, chopped
4 carrots
2 celery stalks, chopped
4 garlic cloves, chopped
1 bunch of kale (ribs removed and sliced)
½ lb cabbage, thinly sliced
2 cups tomatoes, diced
½ cup parsley
Seasonings to taste:
Cardamon, cumin, italian seasonings, Mrs.Dash
How it's done:
Drain beans and put in large pot with sage, ¼ cup olive oil and broth. Gently simmer until tender for 1 hour. Mash up some of the beans to make it a fairly thick stock. Heat remaining oil in a pan and add chicken, onion, carrot, celery and garlic, then saute for 3 minutes. Add kale and cabbage and cook for 10 minutes, stirring occasionally. Add to beans and broth along with tomatoes, parsley and seasonings. Lastly, let simmer for 2 hours to develop the flavour.
Serve it the Tuscan way: Over garlic croutons with mozza sprinkled on top
Enjoy!!
Comment and let us know what you think!
Sarah