Getting sick of buying expensive protein bars from the store? Or hate eating all the unknown additives put in those bars to make them taste like chocolate bars?  Try these out! They containe healthy dietary fats, no sugar added, and no artificial ingrediants!
YUMMMM!!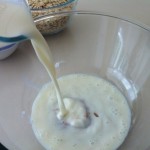 Ingredients:
 5 tbsp natural peanut butter (chunky or smooth)
1/2 cup dry oats or whole grain hot cereal (uncooked)
 1/2 cup oat flour * (double the oats if you do not have oat flour)
6 scoops chocolate whey protein (~132 grams protein)
1 teaspoon vanilla
2 tablespoons flax seeds (optional)
1 cup non-fat dry milk 1/2 cup water (depending on what type of protein you use, you may need to add more)
Directions: Spray an 8×8 baking dish with non-stick cooking spray. Combine dry ingredients in a medium size bowl and mix well. Add peanut butter and mix – the mixture will be crumbly and dry. Add water & vanilla. Using a wooden spoon or rubber spatula, everything until a dough forms. The dough will be sticky. Spread dough into pan using a clean wooden spoon or spatula that has been sprayed with non-stick cooking spray. Refrigerate a few hours (or freeze for an hour) and cut into 9 squares. Wrap bars individually (use sandwich bags or plastic wrap) or store in covered container between sheets of wax paper. Keep refrigerated.
Modifications: Use vanilla protein and replace ~1/4 cup of the oatflour with a variety of nuts, seeds, or dried berries. Chopped almonds, hazelnuts, cashews, peanuts, flax seeds, sesame seeds, pumpkin seeds, raisins, or dried cranberries would all work well.
* Making Oatmeal/Oat Flour: To make your own oat flour, all you need to do is put a cup or two of oatmeal in a regular household blender and blend it on high…it will turn into a flour. Store in a covered bowl in the pantry. It takes 1 minute and is VERY easy and cheap alternative to buying in the store.
Nutritional Information Per Serving: 197 calories, 21 g protein, 7.2 g fat (8% saturated), 13.7 g carbohydrate, 1.6 g fiber
Enjoy and let me know how they taste!
Michelle Roots BA Kin, CSCS, PES