This great tasting pasta has the perfect combination of veggies, protein, and complex carbs to properly fuel the body.
Ready in 20 minutes • Makes 2 servings
INGREDIENTS: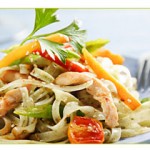 • 1/4 cup green pepper, chopped
• 1/4 cup onion, chopped
• 1 cup whole-wheat fettuccini (about 1/5 of box)
• 6 oz chicken breast, cubed
• 1/2 cup low-sodium chicken broth
• 1/2 tbsp yellow curry
• 3/4 cup garlic and herb spaghetti sauce
• 2 oz liquid egg whites
INSTRUCTIONS:
1. Chop green peppers and onion. Cook pasta to desired texture, drain, return to pot.
2. In a skillet, sauté chicken with broth, curry, onions and green peppers until done. For crispier veggies, add onions and green peppers to sauté last.
3. Add chicken, onions, green peppers and spaghetti sauce to noodles, mix and heat. Pour egg whites on top of mixture to thicken sauce. Stir to allow egg whites to cook.
NUTRIENTS PER SERVING:
Calories: 270, Total Fat: 2 g, Saturated Fat: 0.5 g, Trans Fat: 0 g, Cholesterol: 50 mg, Sodium: 430 mg, Total Carbohydrates: 32 g, Dietary Fiber: 6 g, Sugars: 8 g, Protein: 30 g, Iron: 3 mg
Enjoy!
Michelle Roots BA KIN, CSCS, PES