One of the best quick breakfasts you can prepare is a bowl of oatmeal, especially if you are active and health conscious. Oatmeal is rich in complex, energy-sustaining carbohydrates, low in fat and high in fiber. What's more it is economically priced and easy to make!  Pre-packaged oatmeal, although very convenient to make, can be loaded with unwanted sugar and is also a lot more expensive than buying a large bag of uncooked oats.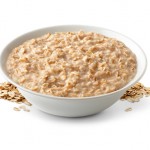 Here are some great ways to add flavour and "pizazz" to your plain old oatmeal without large amounts of sugar!
Apple Cinnamon: Add chopped apple or a few teaspoons of natural, unsweetened applesauce to oatmeal and cook. Sprinkle with cinnamon. 

Maple & Brown Sugar: Use sugar-free pancake syrup and a dash of cinnamon or artificial brown sugar replacement by Sugar Twin that is now available. 

Fruit & Cream: Add a little milk or vanilla protein powder and a few strawberries, blueberries, peaches, or a teaspoon of sugar free preserves. 

Maple Walnut: Add 1 tbsp sugar-free pancake syrup and a few chopped walnuts. 

French Vanilla: Add 1 tsp vanilla, a splash of low-fat milk, and a packet of artificial sweetener. 

Cinnamon Raisin: Try using a few dashes of cinnamon, a splash of sugar-free maple syrup and a teaspoon of raisins.

Protein Boost: Stir in 1 scoop of your favorite protein powder. 

Butter Pecan: Add a splash of imitation butter flavor, teaspoon of Promise fat-free butter replacement or a few dashes of Butter Buds and a teaspoon of chopped pecans. 

Other Grains
: Try a multi-grain hot cereal, 5 or 7-grain hot cereal, oat bran, or get even fancier and splurge on some imported McCann Steel Cut Oatmeal for a little change of pace when you are bored with regular oatmeal. Any of the flavor varieties listed above work well with these complex carbohydrate hot cereals. 
Try them out or let me know if you come up with some other flavour ideas
Michelle Roots BA Kin, CSCS, PES