Great meal filled with lots of protein and healthy fats!!
INGREDIENTS: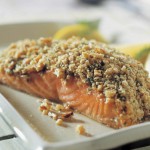 • 4 4-oz filets of salmon
• 1/4 cup walnuts, chopped and crushed with a pinch of cinnamon
• Drizzle of olive oil
• 8 cups salad greens
INSTRUCTIONS:
1. Coat salmon filets with walnut-cinnamon mixture.
2. In a nonstick pan with a drizzle of olive oil, sear the fish on both sides to desired temperature, or when fish begins to flake.
3. On four plates divide salad greens and serve salmon on top.
Nutrients per serving (1 fillet and 2 cups greens):
Calories: 228, Total Fat: 13 g, Sat. Fat: 2 g, Mono Fat: 4 g, Trans Fat: 0 g, Poly Fat: 6.5 g, Carbs: 3 g, Dietary Fiber: 1 g, Protein: 24 g, Sugars: 0 g, Sodium: 57 mg, Cholesterol: 62 mg
Try it out for dinner tonight!!
Michelle Roots BA KIN, CSCS, PES