I have had the pleasure of training this amazing group of girls for the past 4/5 years and I can honestly say it's been amazing watching them grow into better athletes and young ladies
We have been doing on-field strength and conditioning sessions over the past month to help them get ready to kick butt at the USA Cup in Minnesota, July 16-20th.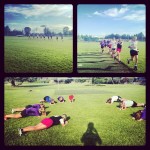 BEST OF LUCK GIRLS & HAVE A BLAST!!
We will be starting up again with the Sting in August for weekly training sessions to help them prep for the upcoming 2013-2014 winter season.
For more information about the team check out their website HERE
For more information about the tournament check out the USA Cup website HERE
Below are some pictures of the girls training in the sun over the past month
(click on the picture to enlarge)