It is a very common occurrence people head to the gym to perform their leg workout consisting of exercises that focus on strengthening the quadriceps, glutes, and hamstring muscles; however, what many people fail to recognize is the importance of building strength in the hip stabilizers to prevent injury and improve balance.  Our bodies have two types of muscle: movers and stabilizers (other than those in the internal organs).
Movers:           large muscles that are responsible for moving the body through all planes of motion (hence the name"movers")
Stabilizers:       muscles responsible for holding everything in place while the body is moving to prevent injury.
The three main stabilizer complexes in the body are located in the trunk, hip, and shoulder; this article is going to focus primarily on the importance of hip stabilization.
When I speak of the hip stabilizer, the muscle I am referring to is the gluteus medius.  This muscle in the hip joint is responsible for maintaining proper biomechanical function of the lower body during walking and running in order to prevent injuries at the hip, knee, and ankle.  Poor alignment of the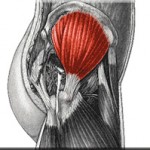 pelvis due to weak hip stabilization during these actions can lead to compensation from other muscles creating muscle imbalances.  This being said, the gluteus medius is not the only muscle responsible for stabilizing the entire lower body, as it works in combination with the muscles of the core, trunk, and legs that have attachments in and around the pelvis.  I like to think of the body as a "kinetic chain" meaning every muscle from your head to your toes work together to create a solid base to perform everyday actions and athletic movements.  Targeting and strengthening the small stabilizer muscles will further solidify your "kinetic chain" and create a very stable base and minimize injury potential.
Athletes need to focus on strengthening the hip stabilizers and core muscles due to the quick movements, reaction speed, and long hours of training required in most sports.  For example, soccer players with weak stabilization at the hip will be more prone to injury when going in for a tackle or landing after jumping up for a head ball because their "kinetic chain" is not creating a stable base for them to land on.  This usually leads to ligament/meniscus tears, muscle strains, or fractures.  Avid runners are also prone to many overuse injuries due to the constant pounding and pressure placed on the lower body during a run.  Weak hip stabilization can lead to common injuries such as iliotibial band friction syndrome, patellofemoral syndrome, and shin splints to name a few.
Tips:
-When performing lower body exercises try to do more single leg exercises forcing the body to balance and watch your hip and knee alignment in a mirror.
-Try standing on one leg with your eyes closed (stand close to a chair or wall that you can grab onto if you begin to fall) if you are not able to do this your stabilizers most likely need some work.
– Be proactive! Work on your stabilization now before an injury occurs instead of dealing with the gruelling process of injury rehabilitation later.
HERE ARE SOME EXAMPLES OF EXERCISES YOU CAN PERFORM TO STRENGTHEN THE GLUTEUS MEDIUS:
PERFORMING THESE BENCH SQUATS ON ONE LEG FORCES THE HIP STABILIZERS TO WORK TOGETHER WITH THE MUSCLES OF THE LEG TO KEEP THE BODY IN BALANCE DURING EACH REP.
Email Michelle@CORE-Condition.com or visit www.youtube.com/coreconditioningBC for exercises to improve strength in your gluteus medius and core.
Michelle Roots BA Kin, CSCS, PES, PN1