Still to cold outside to get back to hiking one of the many beautifully scenic trails British Columbia offers us?  Living in BC, we are surrounded by amazing mountains, lakes, and trails to keep us occupied in the fresh air; however, if you are like me, the cold temperatures we've been getting this winter have weaned me more towards indoor exercise options.   This is a great time to start preparing your body for the many hikes, long walks, and of course the beloved "grouse grind", we will be sprinting out the door to do once that sun comes back out and the weather warms up. 
Incline training on the treadmill is a great way to train the heart and legs to make the first few hikes of the season much easier, prevent injury, and avoid debilitating muscle soreness, which could result after a long winter of couch surfing.   There are many benefits to increasing the incline during your regular treadmill workouts, but be sure to ease yourself into this if you have never done incline training before.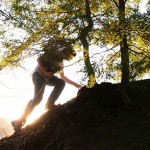 Some of the main benefits of incline treadmill training include:
Works the muscles of the legs differently and more efficiently than when walking on a level surface.  The higher the incline the more it challenges the ankles, thighs, and buttocks; therefore, you can gradually increase the incline to continue to challenge and strengthen the legs.
Increases the difficulty level and cardiovascular benefits without having to increase the speed.
Decreases boredom from walking on a level surface for the entire length of time on the treadmill.  This gives you the option to add in interval-type workouts where you are constantly switching back and fourth from flat to incline, or gradually increasing your incline and speed throughout the workout.
Stretches the calves and helps to build strong lean calf muscles.
Due to the fact that it meant to mimic uphill climbing, it will allow you to be able to ascend steep inclines at a steady pace for a longer period of time before having to take a break.
The slow steady breathing that occurs when you climb uphill expands the strength of your lungs by increasing blood flow.
There is nothing better than outdoor exercise, but it is very important to ensure your body is prepared to avoid unnecessary injury.  What are you waiting for? Get to the gym today and begin an incline treadmill training program.   Whether you plan on hitting the trails this year or not, it's a great way to improve cardiovascular endurance and increase lower body strength and balance.
CAUTION:          
-Do not go all out on your first training session; begin with an incline level you can walk at comfortably (approximately 3.0-5.0 for beginners) and gradually increase your level with each workout as your fitness level increases.
-Try not to hang on to the handles in front of you or beside you, as you will not reap the full benefits because your legs and lungs will not have to work as hard.  When you are out hiking do you have handles on either side of you to help you along the trail? Didn't think so!  If you are not able to walk without hanging on to the handles, either decrease your incline or decrease your speed to something more comfortable for your fitness level.
Email Michelle@CORE-Condition.com for more information about incline treadmill training and some sample programs to begin with.
Michelle Roots BA Kin, CSCS, PES