ARE YOU READY FOR THE HOLIDAYS?
You know all the parties, meals, desserts, alcoholic beverages, lack of sleep, missed workouts can add up very quickly and result in quite a few added pounds.
THE LAST THING WE WANT IS ALL OF OUR HARD WORK OVER THE YEAR TO BE LOST IN JUST 3 WEEKS! 
There is nothing wrong with enjoying yourself over the holidays, but we just have to be sure it is all in moderation and we still stick to our healthy lifestyle between parties and celebrations.
What if you could:
drop a few inches
lose a few pounds
reduce bloating
increase energy levels
and get yourself feeling great heading into holiday party season?
**Above is a picture of my before and afters following this 7 day meal plan.  I didn't necessarily lose weight (not sure didn't weigh myself) but I sure did drop a few inches, lean out, and reduce stomach bloat (oh I and got a tan too as it was a pre-vegas 7 day challenge for myself lol) **
ENTER THE
7 DAY ONLINE PREP CHALLENGE
FAST WEIGHT LOSS AND ONLINE WORKOUT PROGRAMS
Why not take a week leading up the the holiday madness beginning and focus on yourself in order to re-visit healthy habits and reduce the amount of damage that could be done from now until January 1st?
Don't be a "I'll start back in January" person!  Do you know how much harder that will be? Who wants to put all of that pressure on themselves?  Why not start the new year ready to hit the ground running and make 2017 your best year??!!!
OK SO WHAT IS THIS 7 DAY HOLIDAY PREP CHALLENGE ALL ABOUT? 
NOTE
THIS IS NOT 
A DETOX
A DIET
NOR DOES IT INVOLVE ANY TYPE OF STARVATION! 
This is a 7 day meal plan that will teach you how to eat healthy without feeling deprived of your favourite foods, feeling hungry (and miserable) all the time, and keep energy levels high throughout the entire day!
This meal plan will teach you how easy it is to eat in order to support your weight loss goals, but still enjoy good food and attend holiday parties while keeping on track.
Check out this text from a client who has done a challenge previously: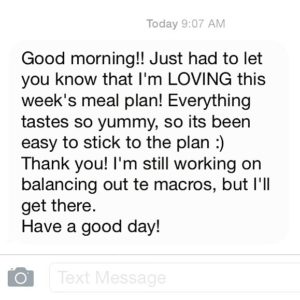 So many people associate weight loss with — no good food, deprivation, starvation, and unhappiness
WHY??? 
YOU DON'T HAVE TO SUFFER LIKE THAT TO LOSE WEIGHT!
It doesn't have to be like that!! We can learn to fuel our bodies properly with the right macronutrients without counting every single calorie that enters our body!  This is how you get LONG TERM RESULTS!
SO YES THIS 7 DAY CHALLENGE WILL JUST BE THE START OF YOUR JOURNEY
In this 7 day holiday prep challenge you will see some INCREDIBLE CHANGES, but this will be just the beginning of the healthy habits you will continue to develop over the rest of December and into January (while still enjoying yummy food and beverage!)
WE ALL NEED TO LEARN THE MAGIC OF "HEALTHY BALANCE"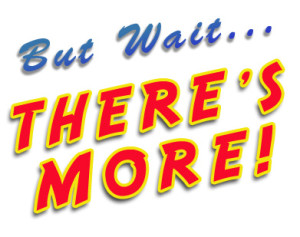 YES, YOU WILL ALSO BE PROVIDED A
7 DAY WORKOUT PLAN
TO ENSURE YOU GET THE MOST OUT OF THIS 7 DAY HOLIDAY PREP CHALLENGE! 
I have created a special 7 day workout series that you will be provided with a different workout to do each day during the challenge.
The workouts are:
Adaptable to all fitness levels
Sent to you through a downloadable iPhone app so you can take them anywhere with you
Different for each day of the week so you don't get bored
Each workout will have a different body part focus (but most of them will include at least a few for the core and mid-section ;))
NO Equipment required – ALL WORKOUTS CAN BE DONE AT HOME
BONUS workouts for those wanting to go to the gym
Video and description for each exercise so there is not confusion on form
Messaging directly to me through the app so any of your questions can be answered right away
Check out how the online training app makes it very easy to follow and stay accountable to your workouts!
LET'S BE HONEST……IT'S ONLY 7 DAYS! 
Get a kickstart on healthy habits and feel amazing at those holiday parties!!! Enjoy all the fun GUILT-FREE!!  I will give you all the tools and support you need to be successful on this 7 day challenge, all you need to do is follow my instruction and BOOM you will kill it!!
SINCE THIS IS ONLY 7 DAYS I AM LIMITING THIS CHALLENGE TO 20 PEOPLE ONLY
Still curious or unsure?? CLICK HERE to read
some testimonials from past challengers