It's summer time and everyone seems to be seeking out that perfect ab workout that will flatten and tone some beautiful abs.  Am I right?  Closer to summer the majority of my clients begin asking for their workouts to be more "ab focused" and that they love ab workouts!
One Quick Thought Pertaining to Ab Workouts
Let's just set one thing straight – performing ab workouts alone WILL NOT give you a flat stomach and a sculpted six pack; however, adding "ab focused" exercises into your Hiit cardio and strength training sessions WILL help.  Little do my clients know, that they are working their stomach muscles in most of the exercises I prescribe them (squats, push ups, pull ups, ball slams etc…), but then throwing in a combination like the one I am going to show below is a great way to build both core strength and a flatter stomach.
One More Thing – Then We Will Get to the Ab Workout
Oh let's set one more thing straight – when it comes to a flat stomach, 80-90% of these results come from what you eat on a daily basis!  We have all heard the saying "abs are made in the kitchen", well yeah eating properly to fuel your body and burn fat in combination with full body strength training, Hiit cardio, and something similar to the ab workout you will see below = flatter stomach!  Check out my 2 Secrets To Great Abs Revealed!
If you are a beginner and the workout below is too challenging for you at this time, feel free to CLICK HERE to check out a few exercises to build core strength at home.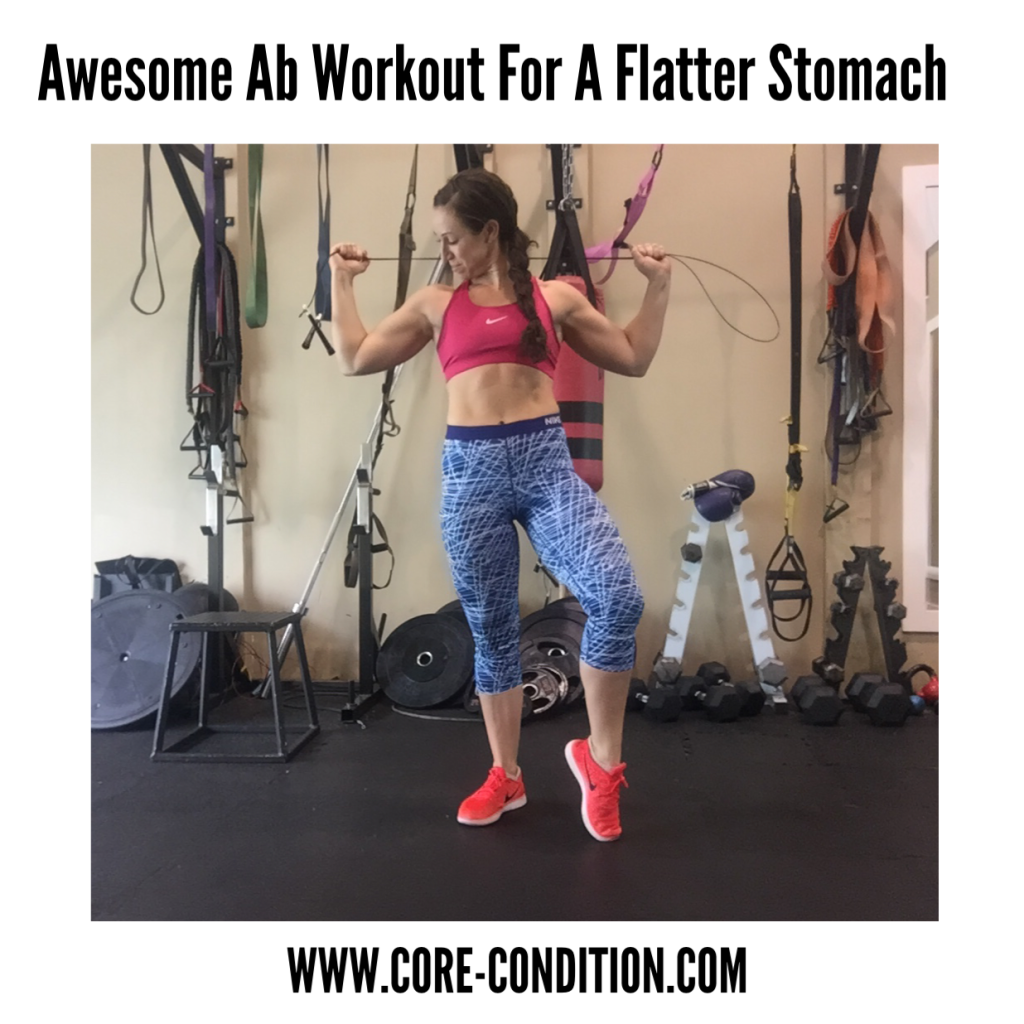 Ok enough rambling over here, let's get to the workout!
Here is how it goes:
20 elevated leg scissors

15 butt raise with leg drop (alternate btwn dropping legs down straight & then angled at the sides to hit obliques)

15 toe touches

15 ab fold ups

15 low ab knee raises

30 fast mountain climbers
Repeat for 2-3 rounds and ohhhhhhhh yeah you will feel those abs burning!
Note: If you don't have a bench, no worries – try performing on lying on the floor!
Disclaimer – Any back or hip pain during any of these exercises – STOP IMMEDIATELY! (you might need to build more core strength, feel free to Contact Me to learn how!)