We all love snacking right? Sometimes you are just get that craving for something that isn't a piece of fruit or a vegetable right? We are all human and we all get cravings sometimes, the key to weight loss success is making sure you find a way to beat these cravings without doing to much damage to our waist lines.  Yes we all love potato chips,but have you ever tried beet chips?
There are many healthy snacks out there, but their are also many snacks claiming to be "low fat" or "low calorie" that are actually bad for you and loaded with chemicals!
I am going to share with you one of my favourite go-to snack ideas when I feel like a salty treat
Beet Chips with Curried Yogurt Dip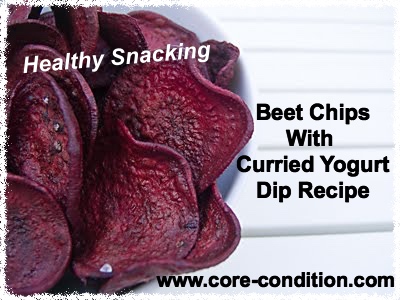 How to Make Beet Chips?
Check out how easy they are!
INGREDIENTS:
4 medium beets, rinsed and scrubbed
2 tsp extra virgin olive oil
Salt and freshly ground pepper
HOW TO MAKE THEM:
Preheat the oven to 350 degrees F then peel the beets and thinly slice. Place into a large bowl and toss with the olive oil. Transfer to two rimmed baking sheets in a single layer. Sprinkle with salt and pepper (be careful not to add too much salt!) Bake for 14-18 minutes, until slightly browned. Remove from the oven and let cool. Chips will become crispier as they cool.
Servings: 2-4
Side Note: If you are in a pinch for time – try the store bought Hardbite Beet Chips
Just be careful with portion size!
Now for the dip!
How to Make the Curried Yogurt Dip?
Mix together 2 tablespoons plain low-fat Greek yogurt and ⅛ to ¼ teaspoon curry powder.
It's that easy!
I hope this snack helps "beet" your snack craving (yes I went there! hahaha)
Remember the less ingredients in an item you eat the better,choose foods closer to their natural state compared to processed!