Looking for a great way to kill your sweet tooth, without sabotaging all of your hard work in the gym? Give this delicious grain free banana bread recipe.  The family won't even know it's healthy!  I usually bake up a loaf of this banana bread on a Sunday night and then I have a healthy go-to snack for those times when you are really craving something sweet.  This bread recipe takes no time at all to throw together and can be baking in the oven while doing your other meal prep or cooking a meal for you or your family.  The best part about it is that their are minimal ingredients required!
Now let's get to the recipe for this delicious grain free banana bread!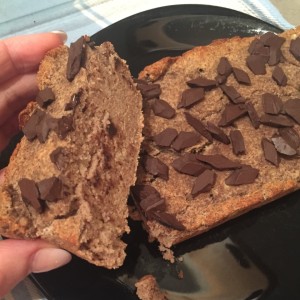 Ingredients:
1 Cup Coconut Flour
3 Ripe Bananas
3 Eggs
3 Tablespoons Melted Coconut Oil
1 Tablespoon Cinnamon
1 Tsp Baking Soda
1 Tsp Vanilla
Directions:
1. Mash up the banana in a bowl and mix in the eggs and melted oil.  Oh and pre-heat the oven to 300F
2. In a separate bowl, mix together all the dry ingredients
3. Pour the wet ingredients into the dry ingredients and mix it all up!
4. Pour into a bread pan that is lined with parchment paper (I sprinkled a few semi-sweet dark chocolate chunks on top just for a little extra flava')
5. Pop this little package in the oven and bake for approximately 1 hour and 15mins.
6. Pull it out of the oven and try your best to let it cool before diving into it!
This delicious grain free banana bread recipe is super easy to make and can be enjoyed guilt-free (within moderation of course).  A great treat is to enjoy a slice of this bread in a bowl with a few spoonfuls of plain greek yogurt on top and some berries.  It's kind of like an ice cream sundae …..kinda….lol
Give it a try and let me know how you like it!