It's that time a year again….everywhere you go tasty baked goods and candy seems to be everywhere! This time a year is a true test of willpower, even though I think it's allowed to splurge a little bit, it's important to not let "a little bit" turn into "a lot bit"!.  I wanted to share one of my favorite recipes that tastes just as good as all those loaves behind the glass at Starbucks, but are much better for your waistline and you can eat guilt-free!
Oh Yes the title is correct, this amazing looking bread is actually healthy and packed with protein! Forget the calorie packed pumpkin loaf at Starbucks, a slice of this bad boy is the perfect snack to keep you feeling satisfied and welcome in the fall season!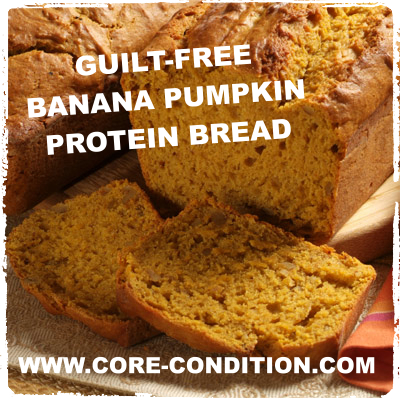 Enough small talk let's get down to business, here's the recipe:
Ingredients
1 cup oat flour
1/3 cup oats
2 scoops vanilla protein powder
1/8 cup Stevia (or natural sweetener of choice – no aspartame!)
1 tsp cinnamon
1 ripe banana
3/4 cup canned pumpkin (no sugar added)
1 whole egg
1 tsp vanilla extract
1/2 tsp baking soda
pinch of salt
Directions:
1. Preheat oven to 350 degrees.
2. Place all ingredients in mixer and mix well.
3. Place batter in prepared loaf pan or separate into muffin tins and bake for 20-25 minutes or until cooked through. To add some more appeal to your kids or husband try sprinkling some carob or dark chocolate chips on top.
ENJOY!!!
Ingredients
1 cup oat flour
1/3 cup oats
2 scoops vanilla protein powder
1/8 cup Truvia for baking (this actually has real sugar in it… didn't know that when I bought it. It's not much, and it was expensive so it's not going to waste!)
1 tsp cinnamon
1 ripe banana
3/4 cup pumpkin (no sugar added)
1 whole egg
1 tsp vanilla extract
1/2 tsp baking soda
pinch of salt
– See more at: http://www.littlebshealthyhabits.com/2012/10/banana-pumpkin-protein-bread.html#sthash.70lOCELg.dpuf
Ingredients
1 cup oat flour
1/3 cup oats
2 scoops vanilla protein powder
1/8 cup Truvia for baking (this actually has real sugar in it… didn't know that when I bought it. It's not much, and it was expensive so it's not going to waste!)
1 tsp cinnamon
1 ripe banana
3/4 cup pumpkin (no sugar added)
1 whole egg
1 tsp vanilla extract
1/2 tsp baking soda
pinch of salt
– See more at: http://www.littlebshealthyhabits.com/2012/10/banana-pumpkin-protein-bread.html#sthash.70lOCELg.dpuf