Snacking is sometimes our biggest problem, as many snacks that claim to be "healthy" are actually loaded with sugar and don't fuel our bodies properly to keep us going for the rest of the day.  The key to a good snack is making sure it's high protein (protein keeps us feeling full and feeds  our metabolism) and low sugar.  Note: I did not say low carb, carbohydrates are OK to eat as long as you eat them at the right time of day!  Eating too much sugar can cause unhealthy spikes in blood sugar, which can result in weight gain and decreased energy throughout the day.
Having an array of healthy "go to" high protein snacks is the key to success
If you have a healthy high protein snack with you, you will be less likely to opt for cookies or doughnuts sitting around the office or sitting on the kitchen counter.  Stay on track by being prepared and to be honest once you taste this recipe you wouldn't want a doughnut over this anyway!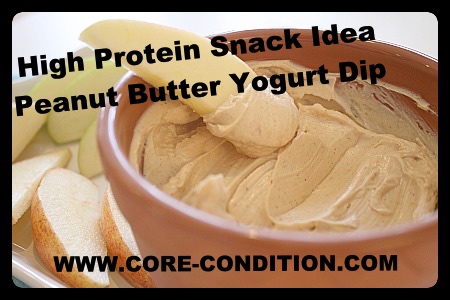 If you find yourself craving sugar mid-afternoon instead of a high protein snack, check out this blog I wrote about how to fight mid-afternoon cravings.
I like to eat this recipe on its own, but you can also use it as a dip for apples/bananas, or any other fruit or veggies you prefer.  This is so tasty, but make sure you watch portion sizes because it is easy to get carried away with this recipe!! This recipe is not only a high protein snack, but it is also a great source of good fats – click here to read why eating good fat can decrease body fat.
INGREDIENTS:
• 1 cup plain nonfat yogurt
• 1 tbsp all-natural peanut butter (or to decrease the calories further substitute peanut butter with powdered peanut butter)
• 1 scoop vanilla whey protein powder
• 1 tsp stevia (optional to sweeten)
INSTRUCTIONS:
Mix or whisk all ingredients together to remove all lumps.
Enjoy and let me know in the comments below how you enjoyed your high protein snack!
Michelle Roots BA KIN, CSCS, PES