Ok everyone, even though pumpkin season is not over after October 31st I think this will be the last healthy pumpkin recipe for a while. I think it's time to move onto another flavor for a little bit. I'm obsessed with everything pumpkin and you might be also, but there are a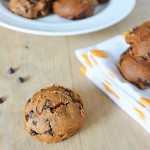 lot more healthy recipes I have to share with you all! Stay tuned for these special surprises in the weeks to come!
These cookies are so easy to make and great to have laying around for a quick 2-bite snack!
Clean Eating 3 Ingredient Pumpkin Cookies:
1/2 Cup Canned Pumpkin
1/2 Cup Rolled Oats
2T-4T Agave or Honey (depending on desired sweetness)
Optional Throw-Ins: shredded coconut, dark chocolate chips (just a few!), pumpkin pie spice (I always add this), nuts etc…GET CREATIVE!
Directions:
– Pre-heat oven to 350 degrees F
– Mix all ingredients in a bowl
– Form dough into small balls and place on a baking sheet
– Bake in oven for about 7-9 minutes
– Enjoy & try not eat the whole batch in one sitting!!
Let me know if you come up with any other creative ways to make these cookies, I would love to hear your feedback!
EAT CLEAN STAY LEAN!!
Michelle