This is one of the easiest and healthiest side dishes to make, and is also one of my favourites!
Many people who are "dieting" or trying to eat healthy in order to lose weight tend to avoid carbohydrates.  There seems to be a myth out there that carbs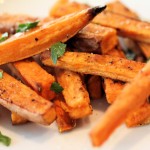 are bad and make you fat, but I am here to tell you this is a lie.  Carbohydrates are very important in the weight loss journey, given they are eaten in moderation and at the proper time of day.  Too much of anything can be a bad thing, but sweet potatoes are a very nutritious addition to any well balanced diet.
Sweet Potato Wedges with Rosemary
(Makes 6 servings)
Ingredients:
2 lbs. sweet potatoes
1-2 teaspoons vegetable oil/coconut oil
Sprinkle of lemon juice and rosemary
Directions:
1. Wash and cut sweet potatoes into sticks or wedges.
2. Place potatoes in a bowl and toss with oil, then spread out onto a baking sheet and sprinkle with rosemary.
3. Bake about 30 minutes at 375 degrees, or until browned and tender. You may want to turn potatoes over half way through baking time.  If you like them a bit more crispy, leave them in for a little bit longer.
4. Sprinkle with lemon juice, if desired.
5. Enjoy!
NUTRITION FACTS:
Serving Size: 1/6 of recipe (153 g)
Servings Per Recipe: 6
Amount per serving
Calories: 172
Calories from fat: 18
Total Fat: 2 g
Saturated Fat: 0 g
Cholesterol: 0 mg
Sodium: 20 mg
Total Carbohydrates: 37 g
Dietary Fibre: 5 g
Sugars: 0 g
Protein: 2 g
Vitamin A: 605%
Vitamin C: 55%
Calcium: 4%
Iron: 4%
Be creative with spices/toppings and let me know if you come up with some new ideas! 
Email Michelle@Core-Condition.com for more healthy recipes or more information about healthy carbohydrate choices.
Michelle Roots BA Kin, CSCS, PES, PN1