I know what you are thinking, sweet potato chocolate chip cookies? seriously? what crazy recipe has Michelle come up with now? As much as I am health and clean eating nut, I also consider myself a cookie connoisseur – yes that's right!  I know a good cookie when I taste one and when you can eat it guilt-free that is even better!
Who doesn't love a good chewy chocolate chip cookie?
Why sweet potato chocolate chip cookies instead of regular cookies?
Did you know that sweet potatoes are one of the best carbs to eat to support weight loss goals?
Here are 3 reasons why:
They can regulate your blood sugar. Sweet potatoes can have about 33 grams of carbs but also contain a compound that increases levels of adiponectin, the blood-sugar regulating hormone, in the body. With regulated blood sugar levels, your body has a better chance getting rid of those sugary cravings you get when your levels dip.
They are a good source of fiber. What's a great way to control your hunger? Fiber, of course. It helps you feel fuller for longer, and one medium sweet potato can contains four grams of the nutrient. Fool proof!
They can satisfy your sweet tooth. Sweet potatoes are a good alternative for a healthy, lower-calorie treat. These babies contain no refined sugar, so they are perfect for curbing your sweet cravings.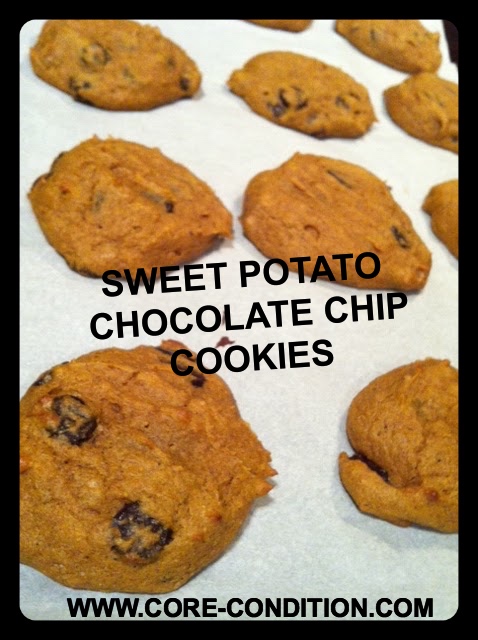 Ingredients
1 sweet potato (approximately 1 or 1½ cups mashed)
½ cup oats
¼ cup peanut butter
1 flaxseed egg (1 tbsp. ground flaxseed mixed with 3 tbsp. water.) or 1 egg
2 tbsp. maple syrup
½ tsp. vanilla
½ tsp. ground cinnamon
⅛ tsp. ground ginger
¼ tsp. all-spice
½ tsp. baking soda
½ tsp. baking powder
⅛ tsp. salt
½ cup chocolate chips
Instructions
-Remove the skin from your sweet potato and cut into small cubes. Place into a pot of cold water and bring to a boil. Reduce heat and simmer for about 10-15 minutes, or until sweet potato is tender or a fork can pierce them (do not over-cook! Keep an eye on it!) Drain and place into a mixing bowl. Mash until smooth.
-Preheat oven to 350F. Line a baking sheet with parchment paper.
-Mix together the oats, cinnamon, ginger, all-spice, baking soda, baking powder, and salt. Using a fork or a pastry cutter, add the peanut butter to the dry ingredients and cut-in until all combined. Add in the flax-egg, vanilla, and maple syrup. Stir in the cooled sweet potatoes and chocolate chips, mixing until all combined.
-Measure out one tablespoon-sized portions of dough and place onto baking sheet. Bake for about 15-17 minutes. Remove from oven, and allow to cool for about 5 minutes. Move to cooling rack.\
Give them a try and let me know how you like them!